Many companies have migrated to the cloud to compete in today's competitive marketplace. While this shift has enabled a global and mobile workforce, it has also exposed businesses to serious threats. A report states that globally, the average cost of a data breach in 2023 was USD 4.45 million (IBM, 2023). Companies are hiring more cyber security professionals to help prevent such losses due to data breaches and other cyber security threats.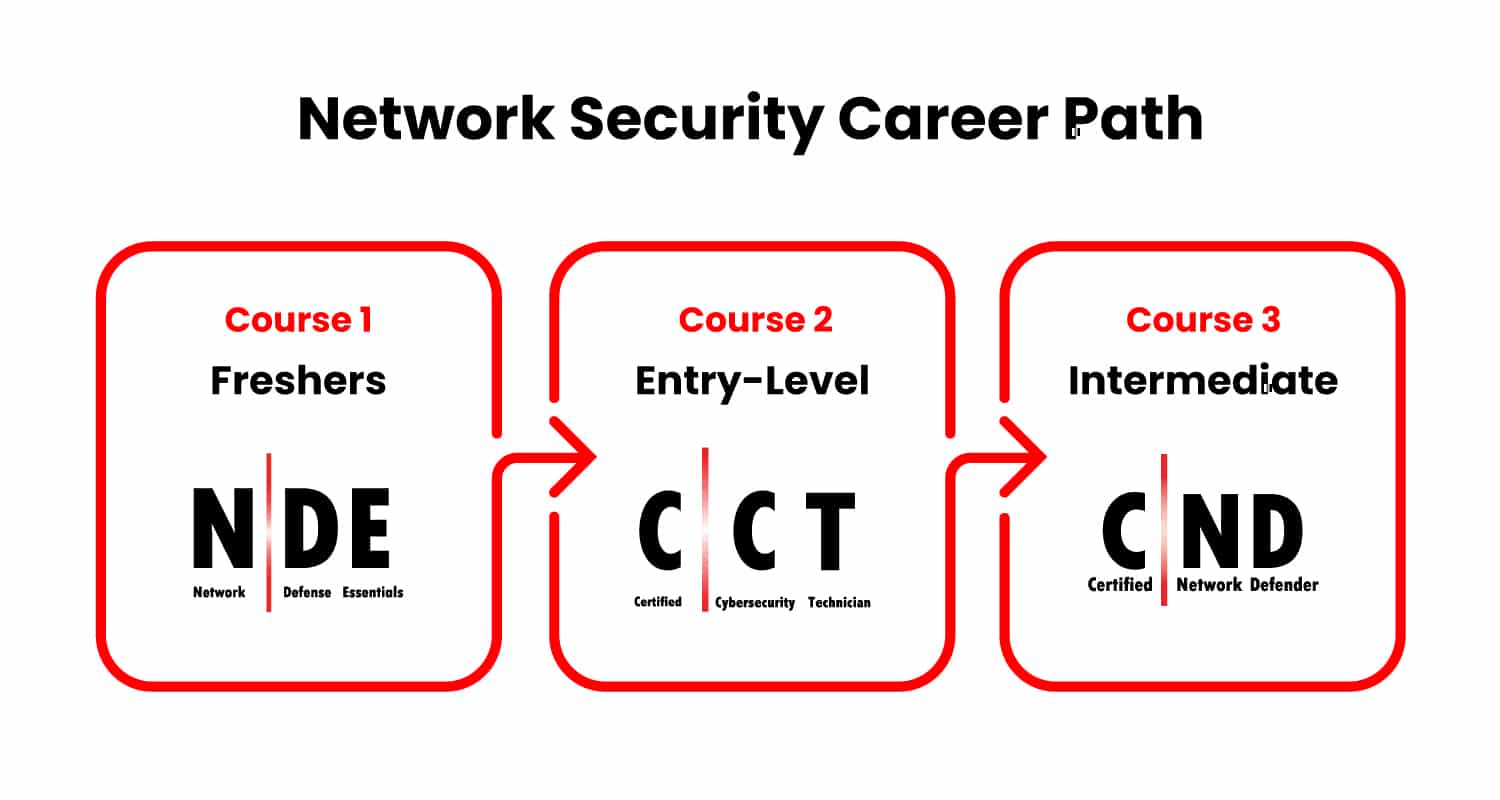 Course 1 – Network Defense Essentials (N|DE)
If you are an absolute fresher in the cybersecurity field, you can start with the N|DE course (Free course).
Course 2 – Certified Cybersecurity Technician (C|CT)
A career in network security is ideal for IT professionals looking to transition into cyber security. But you may be wondering how to start a career in network security, especially if you have no prior experience in security or IT. If you wish to know how to start with entry-level jobs in network security, here's how the Certified Cybersecurity Technician (C|CT) program by EC-Council helps.
How Can the C|CT Program Help You Start Your Career in Network Security?
The Certified Cybersecurity Technician (C|CT) course provides beginners with a strong foundation in multiple domains, such as network defense, ethical hacking, digital forensics, cryptography, and more. If you're just starting out and looking to specialize in a specific area of cyber security, the C|CT certification is an excellent choice. It covers a wide range of topics, making it a comprehensive option for beginners.
What sets the C|CT apart from other entry-level cyber security certifications is its emphasis on practical experience rather than purely theoretical knowledge. The course features 85 labs and Capture the Flag (CTF) exercises for hands-on learning. With no eligibility requirements, there's no better way for beginners to get their start in network security.
What Is the Certified Cybersecurity Technician Program?
EC-Council's Certified Cybersecurity Technician program was created in response to the global demand for more cyber security personnel. Enrolling in the C|CT program gives you a strong foundation to grow into several cyber security roles. This includes penetration testing, security administrator jobs, security consulting, auditing, and even management roles. It was engineered by the creators of the Certified Ethical Hacker (C|EH) program specifically to help start careers in network security.
After passing a comprehensive, performance-based examination, you'll achieve the C|CT certification. The exam combines live activities on the Cyber Range and a variety of knowledge assessments. This unique approach ensures that everyone with C|CT certification understands the concepts and skills required to succeed in today's information security market.
What Do You Learn in the C|CT Program?
Its comprehensive nature sets the C|CT course apart from other entry-level programs. Beginners in network security learn the fundamentals of information security while getting a realistic view of today's information security industry. This helps prepare you for the core responsibilities of a cyber security technician, building a foundation for a long, successful career.
You'll also learn about the key issues plaguing the cyber security landscape today. The C|CT course covers the fundamentals of information security threats and how vulnerabilities are exploited in real-world attacks. You'll become familiar with the different types of malware and attack vectors used to compromise enterprise information security. Application security design is also covered, along with best-practice testing techniques.
In the C|CT course, you'll learn about multiple network security controls — administrative, physical, and technical — and how they shape the field of cyber security today. The course also covers network security assessment techniques and how to apply these tools in the real world. Threat intelligence, ethical hacking, vulnerability assessment, penetration testing, and more are key tools that help prepare you for a long, successful career in cyber security.
As you would expect, you'll also learn how to provide technical cyber security support. The labs and time spent on the Cyber Range teach you how to troubleshoot network and security problems. You'll also learn how to monitor network alerts, taking the information given to take the correct course of action. This will expose you to other network security fundamentals, like cryptography and public key infrastructure concepts. You'll discover how various types of malware put enterprise data at risk and how security professionals keep business data safe from bad actors.
Throughout the C|CT, the hands-on approach gives you real-world experience through the labs and EC-Council's live Cyber Range. Beyond the knowledge you gain, you also get practical experience with network troubleshooting, log monitoring, and inspecting network traffic. This helps you learn how to recognize suspicious traffic and apply the correct incident response process.
What Are the Benefits of the C|CT Certification?
Once you have your C|CT certification, many new career paths open up for you. One route you can take is to earn additional certifications. As part of the EC-Council's Continuing Education Scheme, you could pursue a Certified Ethical Hacker (C|EH) or Certified Network Defender (C|ND) certification.
If you want to start your career in network security right away, the C|CT certification will help you stand out in a crowded field of applicants. The wide range of skills and concepts covered in the C|CT course prepares you for multiple IT roles, such as IT support specialist, networking technician, network administrator, SOC analyst, and more. Since the course packs in so much knowledge and you gain many skills, you're prepared to take your new cyber security career in any direction. Few other courses provide you with multiple career paths or better prepare you for further certifications.
Of course, the C|CT is also a good choice for those already working in IT. It's a perfect way to advance your information security career or enter a new discipline. No matter where you're in your career journey, the benefits of C|CT certification position you to take your next leap.
Course 3- Certified Network Defender (C|ND)
While the C|CT certification can help you start your career in network security, you can also pursue intermediate certification in network security, Certified Network Defender (C|ND).
Certified Network Defender v2 has been designed by industry experts to help IT Professionals play an active role in the Protection of digital business assets and Detection and Response to Cyber Threats, while leveraging Threat Intelligence to Predict them before they happen. C|ND is a network security course designed to help organizations create and deploy the most comprehensive network defense system.
C|ND Course Benefits:
A dedicated focus on IoT security
Network virtualization practices for the remote workforce
Enhanced Cloud Security & IoT and Operational Technology (OT) modules
Introduction to threat intelligence
In-depth Attack Surface Analysis
C|ND is an adaptive security strategy built on a 4-pronged approach — Protect, Detect, Respond, and Predict. This approach not only proves effective in responding to a network attack but stops them before they happen
Applying for the C|CT course is quick and easy. All you need to do is visit the course overview page on EC-Council's website and fill out the simple form at the top. You'll also register for the C|CT scholarship program when you do. EC-Council has pledged $3.5 million in scholarships to help more people enter the network security field. With a C|CT scholarship, you pay only $199 for exam proctoring and technology fees. This represents a significant savings compared to the retail price of $999 for the C|CT course.
The C|CT program from EC-Council covers many IT and information security domains. You'll learn the systems and network administration basics and then advance to more advanced topics. Cryptography, network defense, digital forensics, ethical hacking, and security operations are among the many cyber security domains covered in the course. Once you've earned your C|CT cert, you'll have the skills required to be a cyber security technician, along with several related fields and disciplines.
Network security professionals are the first line of defense against malware, cyber attacks, and bad actors on the internet. They monitor the state of networks and respond appropriately to potential threats and active breaches. Business and much of our everyday lives now revolve around online systems, resulting in a rapid increase of data worldwide. The total amount of data created and consumed globally reached 64.2 zettabytes in 2020. By 2025, that total is expected to grow to more than 180 zettabytes (Taylor, 2023). This explosive growth can be attributed to the pandemic, which increased our reliance on the internet and mobile apps. All of this has made the role of cyber security professionals even more important. Their service saves companies from losing millions of dollars every year by preventing data breaches and financial losses.
References
Taylor, P. (2023, Aug 22). Amount of data created, consumed, and stored 2010-2020, with forecasts to 2025. Statista. https://www.statista.com/statistics/871513/worldwide-data-created/
IBM. (2023). Cost of a Data Breach Report 2023. https://www.ibm.com/reports/data-breach
About the Author
Leaman Crews is a former newspaper reporter, publisher, and editor with over 25 years of professional writing experience. He is also a former IT director specializing in writing about tech in an enjoyable way.