Digital Forensics Career Path
Master the Skills for:
Network Security | SOC Operations | Ethical Hacking  Incident Handling | Forensics Investigation
Become a Digital Forensics Specialist
CERTIFIED PROFESSIONALS
IN 145 COUNTRIES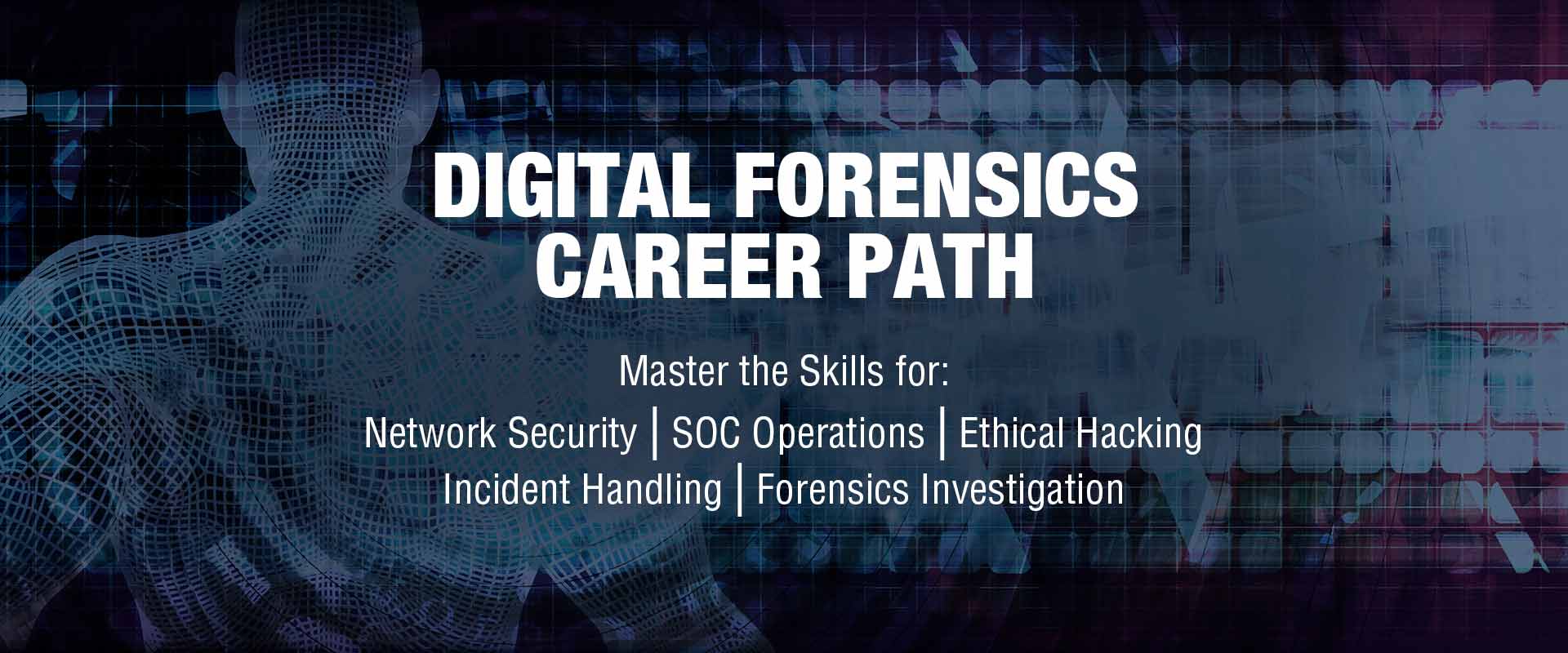 Digital Forensics Career Path
Master the Skills for:
Network Security | SOC Operations
Ethical Hacking | Incident Handling
Forensics Investigations
CERTIFIED PROFESSIONALS
IN 145 COUNTRIES Become a Digital Forensics Specialist
What is Digital Forensics?
Digital forensic science is a branch of forensic science that focuses on recovering and investigating material found in digital devices related to cybercrime. Digital forensics is identifying, preserving, analyzing, and documenting digital evidence. This is done to present evidence in a court of law when required.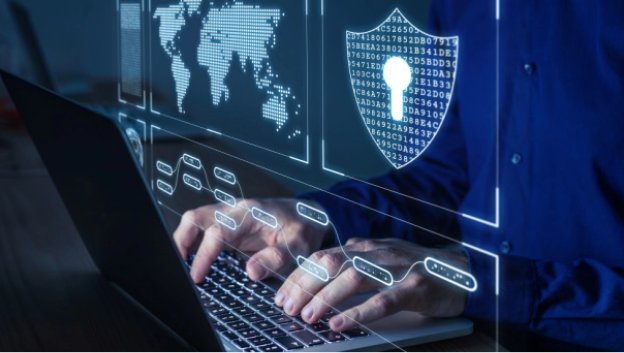 Your Pathway to a Digital Forensics Career

A novice should begin their journey by building a solid foundation in the core areas of cybersecurity. Start by getting the basics right with the Network Defense, Ethical Hacking, and Digital Forensics certification; the course to prepare for this certification is completely free.
Attain a basic core certification of the Certified Cybersecurity Technician (C|CT) to begin your professional cybersecurity course. C|CT will immerse students into well-constructed knowledge transfer through training, accompanied by critical thinking challenges and immersive, hands-on lab experiences allowing candidates to apply their knowledge and move into the phase of skill development right in the class.
Post C|CT, you need to grow your career path with the Certified Network Defender certification. You will learn to examine network traffic at the binary level, master TCP/IP protocol, introduce vulnerability assessments and hacking methodology, and much more. These are essential skills that a VAPT professional should possess, a good foundation to become a network security expert.
After mastering the 5 Phases of Ethical Hacking, you will be ready to learn how to detect, validate, contain, and eradicate security incidents with EC-Council Certified Incident Handling (E|CIH). And learn to handle 8 stages in incident handling: Planning, Recording & Assignment, Triage, Notification, Containment, Evidence Gathering & Forensic Analysis, Eradication, Recovery, and Post-Incident Activities.
The capstone of this track is the Computer Hacking Forensic Investigator (C|HFI) course; it will give you a firm grasp of digital forensics and evidence analysis that also pivots around the Dark Web, IoT, and Cloud Forensics. With C|HFI, you will learn a methodological approach to searching and seizing, chain-of-custody, acquisition, preservation, analysis, and reporting of digital evidence with hands-on experience in various forensic investigation techniques and tools.
Digital Forensics Skills Are Rare
Demand for Digital Forensics Professionals Continue to Rise
Job Roles Mapped to Digital Forensic Career Path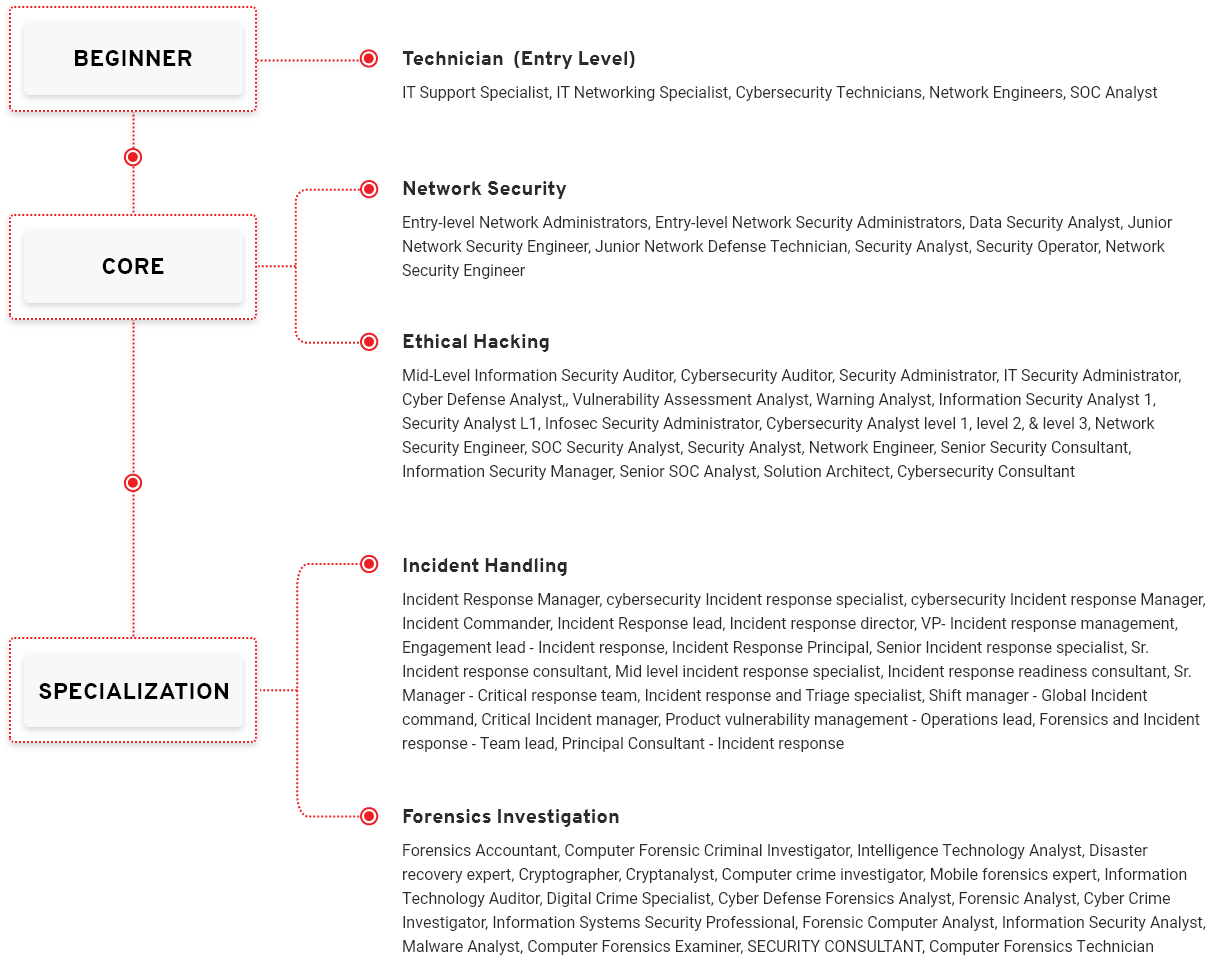 Job Roles Mapped to Application Security Career Path
7 Reasons to choose Digital FORENSICS Career Path
Growing Industry : Considering the recent hacks across the globe, it has become imperative for companies to keep their information and business secure, for which they need a formidable team of cybersecurity professionals also skilled in Forensics Investigation.
Job Vacancies : Apply for Different Job Roles mapped to Incident Handling & Response Career Path. With almost 3 million job vacancies globally, cybersecurity is an attractive industry.
Rewarding : The salary of a Digital Forensics Investigator is $80,539 (as per salary.com), and that's just the beginning of your career.
Begin and Build Your Rewarding Cybersecurity Career with World's No.1 and Highly Sought-after Cybersecurity Credentials.
Accreditations : C|ND, C|HFI, and C|EH courses are ANSI Accredited, and DoD (US. Department of Defense) Approved.
Expert, Experienced Trainers & SMEs: Career path courses are developed and taught by EC-Council who has 20 years of experience in cybersecurity training with industry experts, professionals and instructors with years of cybersecurity experience.
Lab intensive courses to develop real world job skills.
A Digital Forensics Specialist can
Decode an Attack. Compile Evidence.
Prosecute Criminals. Defend Organizations.
Accreditations, Recognitions & Endorsements