EC-Council's whitepaper titled "A Guide to Extended Threat Detection and Response: What It Is and How to Choose the Best Solutions," authored by Anis Pankhania, Senior Director, Security Operations and Compliance at Capgemini, provides an in-depth analysis of extended threat detection and response (XDR) solutions and their significance in today's cybersecurity landscape.
This whitepaper starts by highlighting the challenges faced by organizations in detecting and responding to cyber threats. Traditional security solutions such as Endpoint Detection and Response (EDR) and Security Information and Event Management (SIEM) are no longer sufficient to address the sophisticated threats posed by cybercriminals. On the other hand, XDR solutions provide a holistic approach to threat detection and response by aggregating data from multiple sources, such as endpoints, networks, and the cloud, and applying advanced analytics to identify and prioritize threats.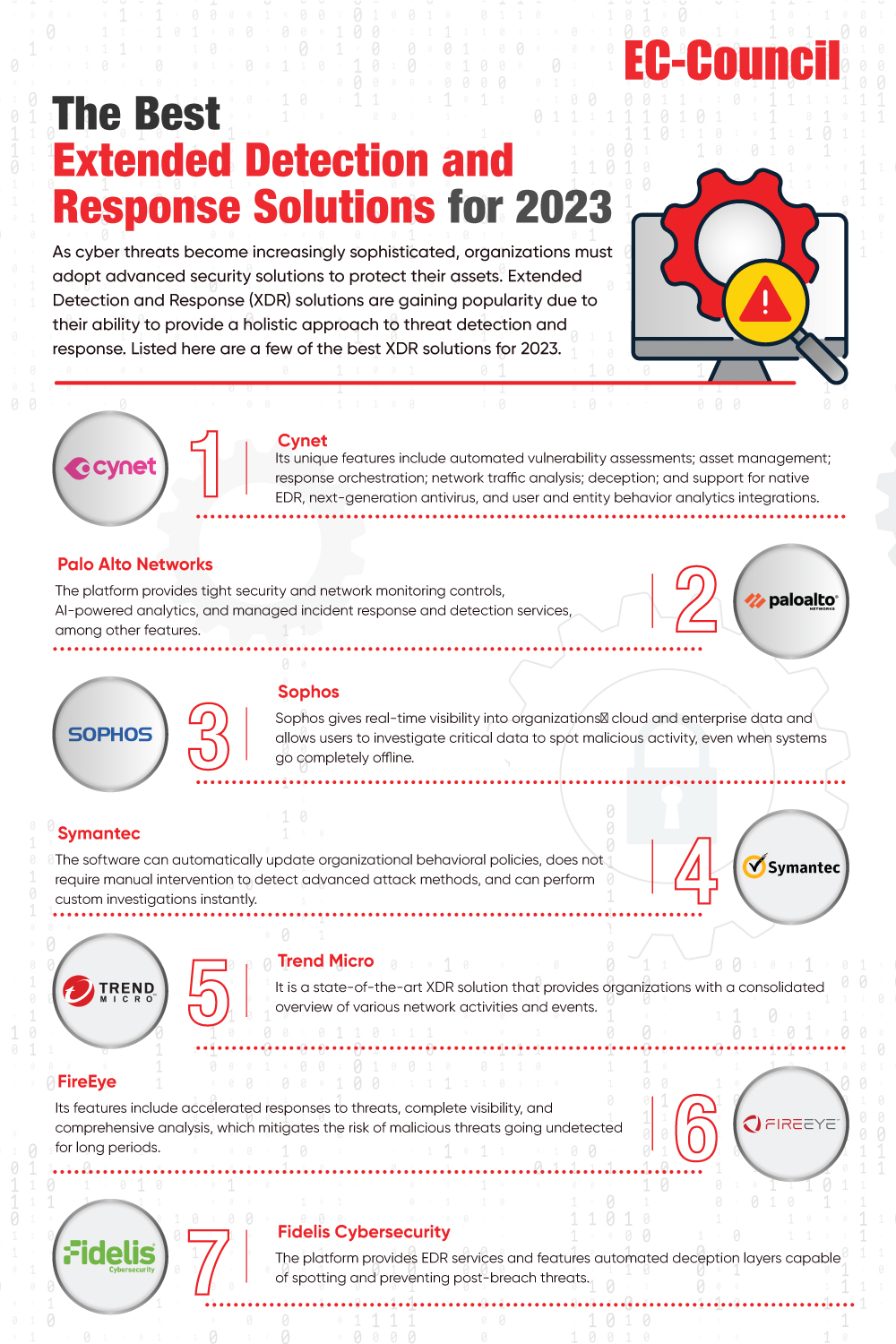 To illustrate the benefits of XDR solutions, this whitepaper includes a case study of a global healthcare organization that leveraged XDR to detect and respond to a ransomware attack. The XDR solution enabled the organization to quickly identify and contain the attack, preventing the ransomware from spreading and minimizing the impact on the organization's operations.
Overall, the whitepaper provides valuable insights into the benefits of adopting XDR solutions and the key features that organizations should consider when selecting a solution. Furthermore, the paper delves into the various deployment models for XDR solutions, including cloud-based, on-premises, and hybrid deployments. The advantages and disadvantages of each model are discussed, allowing organizations to make informed decisions based on their unique requirements.
By leveraging XDR solutions, organizations can enhance their security posture, detect and respond to threats quickly, and minimize the impact of cyberattacks. In conclusion, this whitepaper is a helpful guide for organizations looking to enhance their security posture by adopting XDR solutions. It provides an in-depth analysis of XDR solutions, their capabilities, deployment models, and selection criteria, empowering organizations to make informed decisions and choose the best XDR solution.
By downloading the whitepaper, organizations can gain a deeper understanding of the benefits of XDR solutions and how to select the best solution for their needs. To download this whitepaper, please submit your details in the form below and take the first step towards enhancing your organization's security posture.