Date: September 27, 2022
Time: 7 a.m. MDT/2 p.m. BST/6:30 p.m. IST
Topic: Foundations of Data Security Practices
Abstract: With the increasing expansion of the Internet of Things (IoT) devices and cloud technologies, huge volumes of databases are being processed and stored, making them vulnerable to cyberattacks. Safeguarding sensitive data is crucial for preventing data breaches and theft. Visibility into networks and systems is an important factor in protecting organizational data. Failure to protect sensitive data can have catastrophic consequences on the business viability of an enterprise. Statistics show that the average annual cost of a data breach rose from USD 3.86 million to USD 4.24 million in 2021, according to IBM and the Ponemon Institute.
It's essential important for cybersecurity professionals to adhere to data privacy and security best practices as well as stay on the cutting edge of technology to secure our systems from data breaches, identify theft, intellectual property invasion, and financial theft. Our upcoming webinar will explore the foundations of data privacy and effective best practices for securing sensitive data.
Key takeaways:
Understand risks and threats to data security
Fortifying enterprise security with data security technologies
Data privacy and security best practices
Data protection with a growing remote workforce
Speaker: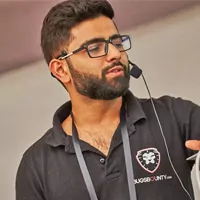 Himanshu Sharma
Bio: Himanshu Sharma has been in the bug bounty field since 2009 and has been listed in Apple, Google, Microsoft, Facebook, Adobe, Uber, AT&T, Avira, and many more. His other experience includes helping celebrities recover their hacked accounts and assisting an international singer in tracking down his hacked account and recovering it. Himanshu has been a speaker at conferences worldwide such as BotConf, CONFidence, Hack in the Box, SINCON, Sec-T Hackcon, the IEEE Conference in California and Malaysia, and TedX. He has authored multiple bestsellers, including Kali Linux – An Ethical Hacker's Cookbook, Hands-On Red Team Tactics, and Hands-On Web Pentesting with Metasploit.
*Examples, analysis, views and opinion shared by the speakers are personal and not endorsed by EC-Council or their respective employer(s)