In contemporary business operations, cloud computing has become an essential aspect that offers remarkable advantages in terms of flexibility, scalability, and cost-effectiveness. However, this shift towards cloud-based systems has also scaled the risk of cyber-attacks and data breaches, highlighting the need for robust cloud security measures. In response to this growing concern, EC-Council has released a comprehensive survey on cloud security, authored by Dr. Shekhar Pawar, the inventor of Business Domain Specific Least Cybersecurity Controls Implementation (BDSLCCI) at SecureClaw.
This whitepaper This whitepaper provides a comprehensive overview of the current cloud security challenges and trends and practical advice on how to address them. It covers various topics, including the risks associated with cloud deployment models, the importance of cloud security governance, and the need for practical threat intelligence and incident response capabilities.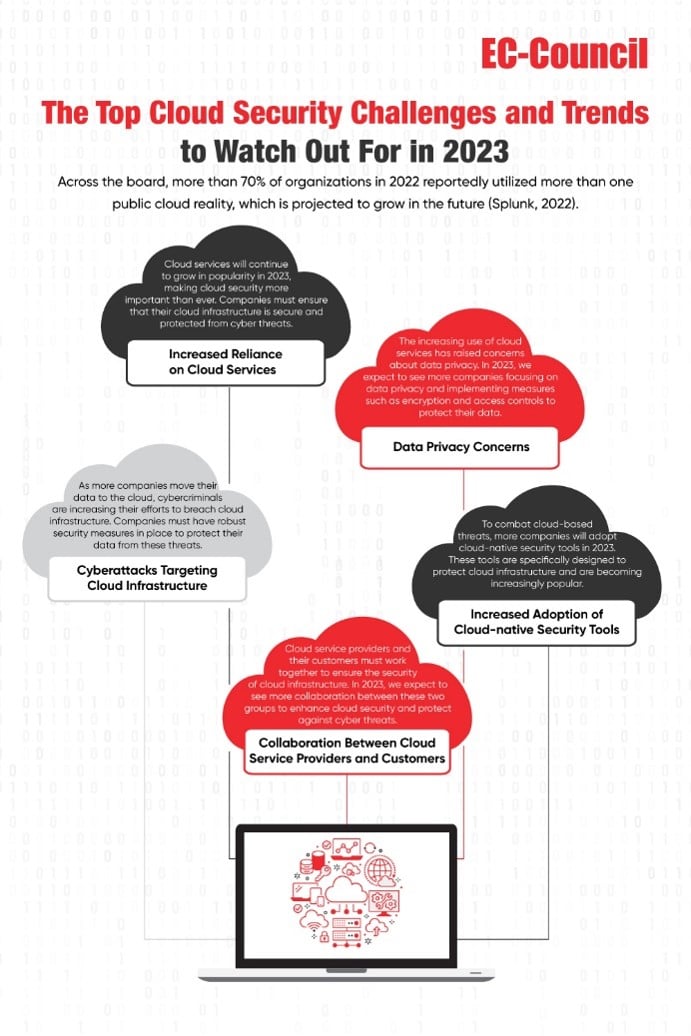 One of the key takeaways from the whitepaper is that while cloud providers are responsible for securing the underlying infrastructure, customers are responsible for ensuring their data and applications. This means that organizations must clearly understand their security responsibilities when using cloud services and proactively manage their cloud security risks.
The whitepaper also highlights the importance of implementing security controls such as encryption, access controls, and monitoring to protect against data breaches, insider threats, and account hijacking. In addition, it emphasizes the need for cloud security governance frameworks that can help organizations to manage their cloud security risks and comply with relevant regulations and standards.
Overall, EC-Council's whitepaper provides valuable insights and guidance on how organizations can better protect themselves in the cloud. By adopting the best practices and strategies outlined in the whitepaper, organizations can minimize their cloud security risks and maximize the benefits of cloud computing.
To access the full whitepaper and learn more about cloud security best practices, simply submit your details in the form below and take the first step towards securing your organization's cloud infrastructure. By taking these steps, you can enhance your organization's cloud security posture and ensure you are well-prepared to address the evolving cloud security landscape.