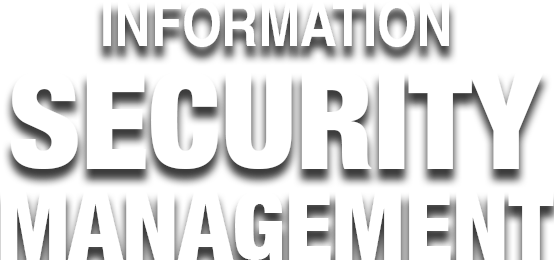 Become a Certified Chief Information Security Officer
CERTIFIED PROFESSIONALS
IN 150 COUNTRIES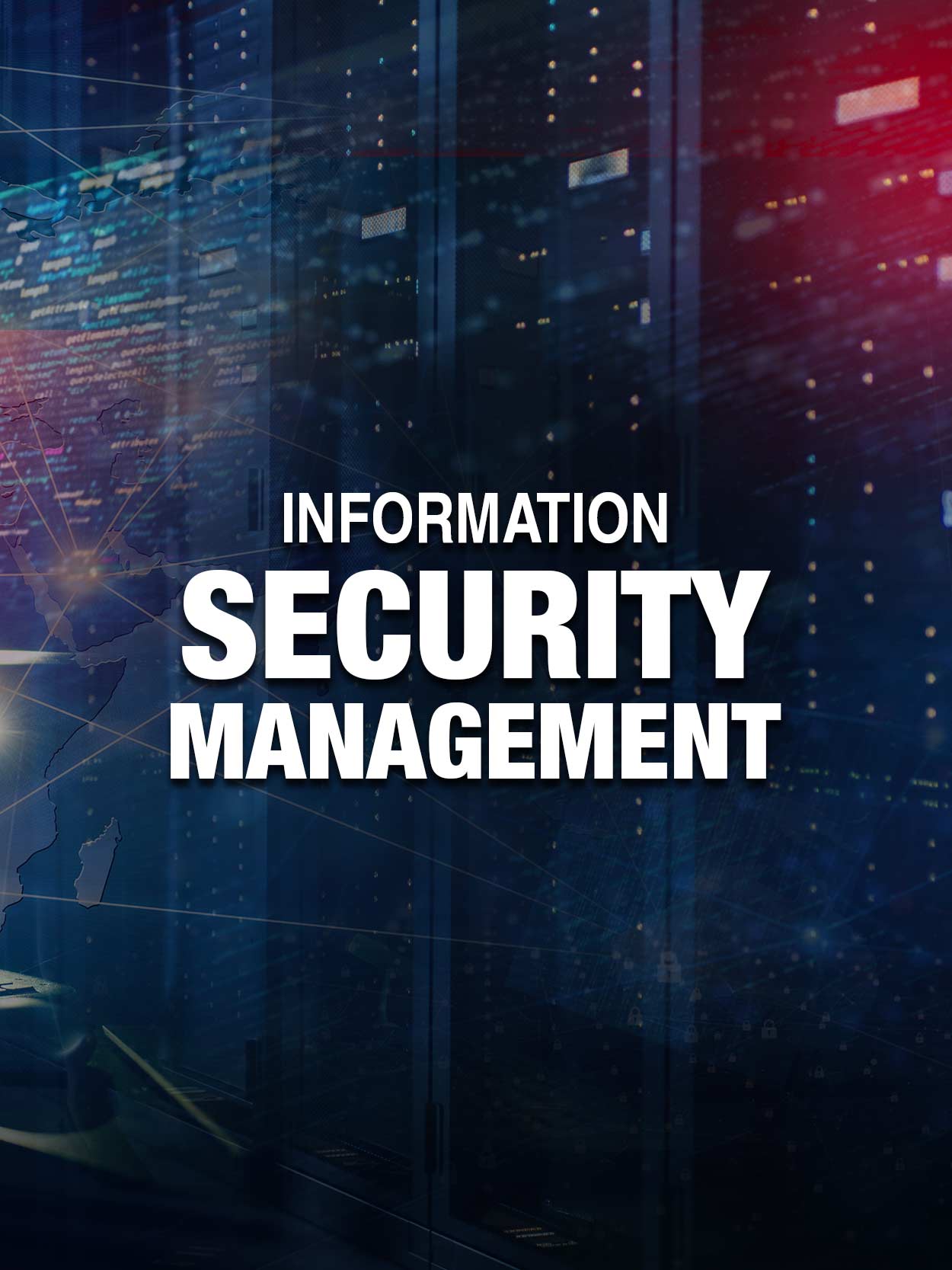 CERTIFIED PROFESSIONALS
IN 150 COUNTRIES Become a Certified Chief Information Security Officer
What Is Information Security Management
Information security management is an organization's approach to ensure the confidentiality, availability, and integrity of IT assets and safeguard them from cyberattacks. A Chief Information Security Officer, IT Operations Manager, or Chief Technical Officer, whose team comprises Security Analysts and IT Operators, may carry out the tasks involved in information security.
It's obvious that virtually every organization has information they wouldn't want to be exposed to or wouldn't want to fall into the wrong hands.
Regardless of whether this data is stored physically or digitally, Information Security Management is crucial to securing the data from being stolen, modified, or other accesses without authorization. You should consider what your organization owns so you can prioritize their protection.
What Is Information Security Management
Information security management is an organization's approach to ensure the confidentiality, availability, and integrity of IT assets and safeguard them from cyberattacks. A Chief Information Security Officer, IT Operations Manager, or Chief Technical Officer, whose team comprises Security Analysts and IT Operators, may carry out the tasks involved in information security.
It's obvious that virtually every organization has information they wouldn't want to be exposed to or wouldn't want to fall into the wrong hands.
Regardless of whether this data is stored physically or digitally, Information Security Management is crucial to securing the data from being stolen, modified, or other accesses without authorization. You should consider what your organization owns so you can prioritize their protection.
Pillars of Information Security Management
Today, business organizations produce, amass, and store huge amounts of information from their customers, such as credit cards and payment data, behavioral analytics, healthcare information, usage data, and other personal information. All these have increased the threats of cyberattacks and data theft, which has resulted in important developments in the field of information security management.
The core six pillars of information security management must be properly understood to be effective for information security management strategies. They include:

Information Security Controls
What Are Security Controls?
Information security controls are safeguards or countermeasures implemented to minimize, detect, avoid, or counteract information security risks, including data theft, information systems breaches, and unauthorized access. These security controls aim to help protect the integrity, availability, and confidentiality of data and networks.
3 Forms of Security Controls
Preventive
security controls intend to counteract cybersecurity incidents
Detective
Some security controls are targeted at detecting unusual cybersecurity activities. They also detect both potential and successful breaches and notify the cybersecurity professional of the incidents.
Corrective
Also, some security controls are intended to be corrective. They are implemented following a cybersecurity incident to reduce data loss or damage to the network or system and quickly restore critical business processes and systems (resilience).
Types of Security Controls

This involves applying countermeasures and safeguards in a specified structure to prevent or discourage unsanctioned access to critical information assets. This includes using motion or thermal alarm systems, locks, security guards, or even closed-circuit surveillance cameras.
This strategy ensures that users are who they claim to be and that they have proper access to specific data. Examples of access controls include passwords.
These are the measures implemented to validate and maintain a computer system and guarantee that users understand how to use it. Procedural controls often adopt the form of typical user manuals and operating procedures (SOPs). Some common SOP topics include backup and recovery, SOP development and maintenance, computer system verification and validation, records management, user account management, change control, organization, personnel, and training, etc.
These are the security measures that the computer system executes, such as firewalls, antivirus software, multi-factor user authentication at login (login), and logical access controls. Technical controls help to prevent unauthorized access or abuse and enable automatic detection of security breaches.
Controls are a central feature within compliance risk management and the appropriate implementation of these security measures is vital to mitigating risks. Examples include cybersecurity standards and frameworks and data privacy laws.
Information Security Standards and Control Frameworks
These outline suitable cybersecurity practices and create a structure that individuals can apply for managing their information security controls. The most common information security standards and control frameworks are:
Training and Certification Around Information Security Controls
Relevant training and certification ensure that the leader can implement and execute the Information Security Controls recommended by the council, and perform audits based on the standard. Training makes them familiar with processes and tools used to track/control/prevent/correct use of system and application accounts.
InfoSec professionals who want to take their career to the next level should attempt the leading security risk management courses.
Governance, Risk, and Compliance (GRC)
Governance, risk, and compliance (GRC) mainly deal with structuring risk management for organizations. Governance and risk management is a strategy that is structured to help you align IT tasks with corporate goals, mitigate risks efficiently, and stay up to speed with compliance.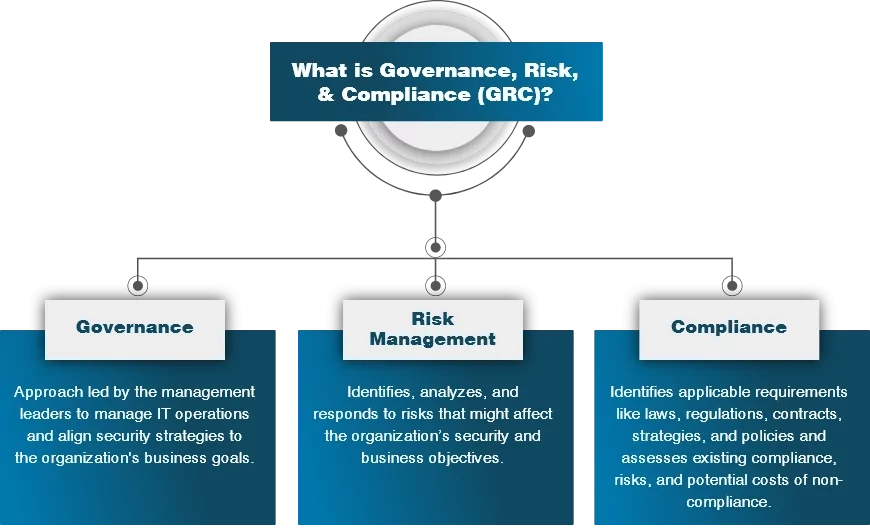 Governance is the combination of procedures supported and implemented by the executives to guarantee that all organizational tasks, such as managing IT operations, are managed, and aligned to back up the organization's business goals. Governance is a key element in an Identity and Access Management (IAM) solution.
Corporate adopt several different practices, but the best practice for corporate governance are
Corporate Governance Standards are constructed on the premise of the following principles of corporate governance, implemented by the Organization for Economic Co-operation and Development (OECD):
Risk management involves forecasting and dealing with risks or opportunities linked to your organization's activities, which could hold back your organization from suitably realizing its aim in uncertain situations. In the cybersecurity environment, risk management is applying a comprehensive IT risk management methodology incorporated into your organization's enterprise risk management functions.
Principals of Risk Management
The ISO 31000-2018 standard, Risk Management–Guidelines, outlined the following principles for an effective risk management solution:
Risk Management Training and Certification
Risk management certifications help practitioners identify and implement a course of action to mitigate IT risks by learning the organizational skills to assess and prioritize real and potential risks using matrices in the risk assessment process. It also helps to understand the organization's risk tolerance and avoid decision-making errors.
What Is Cyber Regulatory and Compliance?
Cyber Regulation and Compliance are the yardsticks that ensure you meet the numerous controls, typically endorsed by the law, a regulatory authority, or industry group, to safeguard the CIA Triad (confidentiality, integrity, and availability) of data.
Here are some IT Compliance Standards that impact the business
The following are the potential risks of non-compliance in your employee certifications
Here are some of the best practices surrounding regulatory compliance
Governance, Risk, and Compliance Training
There are hardly any job roles that don't benefit from GRC training, including those of an IT Security Analyst, CIO, Business Information Security Officer, Security Engineer or Architect, etc. Governance, Risk, and Compliance (GRC) Training empower security professionals to discover unique insight into GRC activities across the business by fulfilling obligations by enforcing policies. Professionals who have gone through specialized governance, risk, and compliance training are equipped with the tools to help an organization design sound policies.
GRC training and certifications help you improve all GRC disciplines by bridging gaps in your education or experience.
Cybersecurity Audit Management
What Is Cybersecurity Audit?
A cybersecurity audit aims to serve as a 'checklist,' which authenticates that the policies a cybersecurity team indicates are really on the ground and that there are controls available to implement them.

Internal audits analyze an organization's internal controls, such as its accounting processes and corporate governance. They ensure that organizations comply with relevant laws and regulations and that financial reporting and data collection are executed in an accurate and timely fashion.
This is an independent assessment of the company's financial statements and is often executed for statutory reasons since the law mandates it. The external audit is performed by a registered firm of accountants with established professional qualifications, including ACCA, ACA, and CPA.
A third-party audit happens when an organization determines to construct a quality management system (QMS) that corresponds to the standard set of requirements, like the ISO9001 and utilizes an independent auditing firm's services to conduct an audit to authenticate that the organization has thrived in meeting these standards.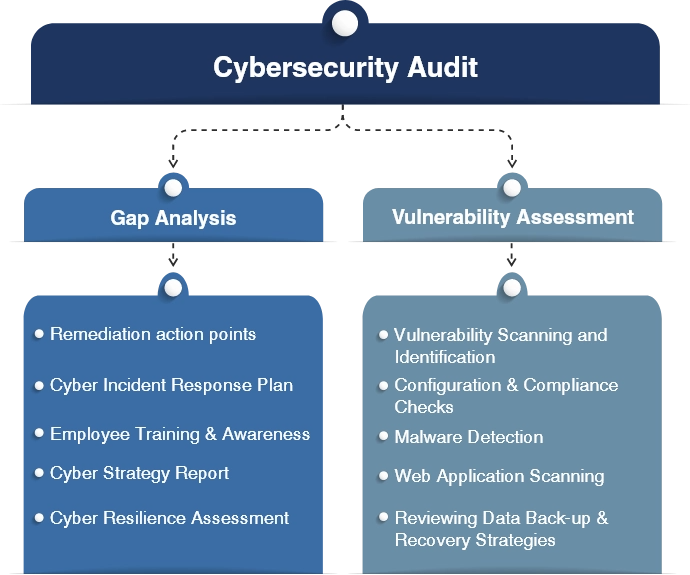 This involves the process of ensuring that board-permitted audit directives are executed. Audit management simplifies and organizes the collaboration and workflow process of collecting audits. It manages the internal, external. And third-party audit employees hire and train suitable audit professionals and establishes audit programs.
Regulations and Standards
Cyber Audit Management Training and Certification
Given the escalating amount of cyber-attacks, it has become essential for audit management programs to include cybersecurity measures. The certification equips audit or assurance experts with necessary knowledge and skill to succeed in cybersecurity audits and it gives IT risk personnel the understanding of cyber-based risk and prevention controls.
Security Program Management
This is made up of projects, processes, activities, technologies, and policies, which are combined to realize a shared objective.

The Objective of a Security Program
A security program aims to provide a documented set of an organization's cybersecurity standards, policies, guidelines, and procedures. Your information security program must guarantee the integrity, confidentiality, availability, and nonrepudiation of your client and customer data via efficient security management controls and practices.

Components of Security Program
To accomplish all your operational, strategic, and tactical information security objectives, you need to implement the following are key components:

Training and Certification for Security Program Management
The information security officer training program or certification should also focus on information security projects that include integrating security requirements into other operational processes. Security program management is like a day to day responsibility of a CISO. Such certifications help the security leader understand the security maturity levels, how security engages with the business, its strategy overall and the business goals. It enables the leader to create a security road map and define exactly where they need to set their security benchmark.
Vendor Risk Management (VRM) OR Third-Party Risk Management (TPRM)
VRM includes all the processes of evaluating suppliers, partners, and vendors to ensure they meet certain requirements⁠⁠. Although vendor risk management (VRM) and third-party risk management (TPRM) are often used interchangeably, they don't mean the same thing.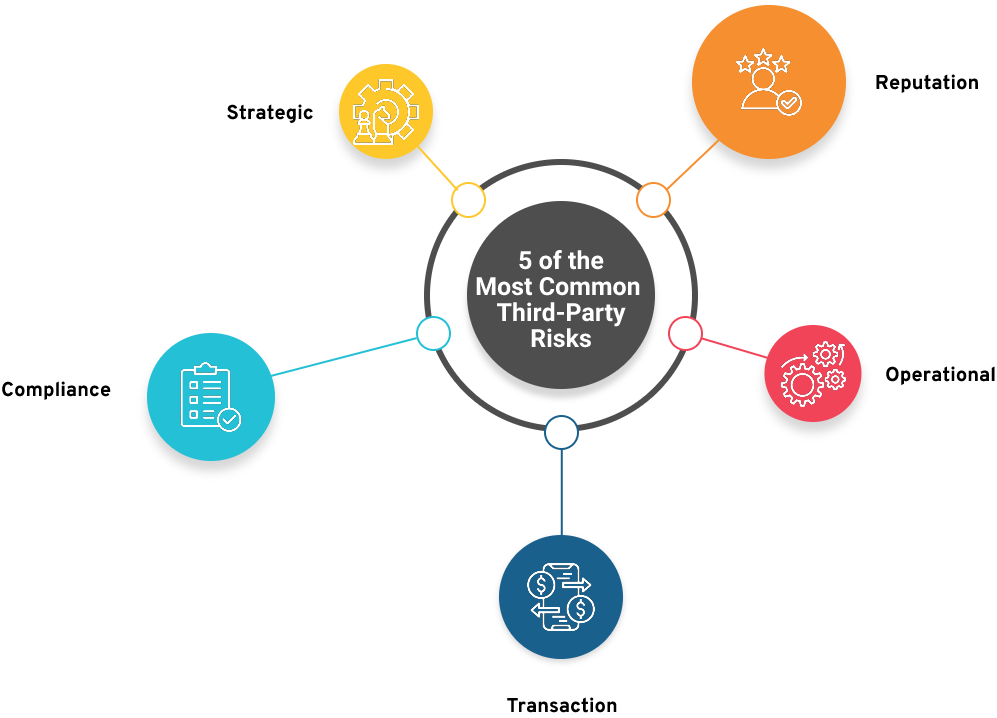 What Is Third-Party Risk Management (TPRM)?
TPRM is an assessment of vendor risk introduced by a firm's third-party relationships along the whole supply chain. It involves identifying, evaluating, and monitoring the risks represented throughout the lifecycle of your relationships with third-parties. This often begins during procurement and reaches the end of the offboarding process.
Types of Risks while Onboarding Vendors
How to Select a Third-Party Risk Management (TPRM) Framework?
There is a growing need for a consistent third-party governance framework as companies are becoming more decentralized. Nevertheless, your selection of a third-party risk management framework would be dependent on your organization's use of third-parties, compliance requirements, regulatory requirements, business processes, acceptable level of risk, joint ventures, and the general risk management policy.
Best Practices Around Third-Party Risk Management (TPRM)?
You are only as tough as your weakest link:
Identify third-party risk
You can identify risks at different levels of engagement with third parties. This can be done through penetration testing, threat modeling, red teaming assessment, and so on.
Evaluate third-party risk
It is important that you perform a careful evaluation to assess and account for the impact. You can rank the assessment of critical third-party tools and services, perform periodic assessments, or evaluate each third-party tool risk's general potential business impact.
You must assess risk in a time-and-cost fashion if you're to mitigate third-party risks effectively.
Does Your Business need Third-Party Risk Management (TPRM)?
TPRM is vital to mitigate unnecessary risk and excessive costs linked with third-party cyber risks. Designing a solid TPRM program minimizes the destructive impact that your organization's technology business decisions may have on your financial solvency and customers.
Vendor / Third-Party Risk Management Training & Certification
Certifications in the vendor risk management space have become the norm for the organization. Business operating in an outsourced economy demands expertise to meet the necessary strategies, processes, and practices for evaluating and managing vendor risk and overseeing the security of sensitive data with third parties. The
third-party or vendor risk management training
helps in understanding the risks to your organization, manage program, and IT risk controls to concentrate on during an assessment.
An information security strategic plan can place an organization in a position to accept or avoid, transfer, or mitigate information risk associated with processes, people, and technologies. A solid strategy can also help the enterprise effectively protect the confidentiality, integrity, and availability of information.
The Strategic Role of a CISO

Aligning Cybersecurity Initiatives with Business Objectives
Aligning your cybersecurity initiatives with your business objectives begins with understanding, describing, and ultimately aligning the relationship between your critical business functions, IT assets, and data.
When you take a careful look at how these components are interconnected, you'll find it easier to determine which security controls you should apply for each of them. You should also note that business functions will depend on IT assets, IT assets will produce data, and data will provide business functions
Return on Investment (ROI)
The appropriate metric in today's cybersecurity environment is to get a return on investment (ROI). Cybersecurity professionals must be able to validate and account for every amount spent on information security. Assessing actual cybersecurity ROI involves assessing attacks controlled and reporting attacks that may have happened but didn't due to a cybersecurity framework's strength.
This process authorizes an organization to take suitable procedures for mitigating possible risks associated with vendors, regulating cost, guaranteeing exceptional service deliverability, and developing value from vendors in the long-run.
Role of a CISO in Managing Information Security Operations
The CISO is the executive-level manager responsible for directing operations, strategy, and the budget needed to ensure and manage the enterprise information assets' security. The role of a CISO will cover communications, identity and access management, applications, infrastructure, and the procedures and policies that apply.
CISO an Integral part of Business Enablement Process
The CISO is an integral component of any business enablement process, even though most companies are still not used to the role. The responsibilities of a CISO goes beyond IT functions to include every aspect of a business function.
A CISO's business enablement responsibility includes the following components
One of the most prominent cyber risk management online certification courses you will find today is the EC-Council's Certified Chief Information Security Officer (CCISO) course. The objective of this training and certification program is to produce top-level information security executives.
The top security officer training available is the CCISO program, which covers five crucial domains, including
Sign-up now to begin your information security journey!
If you're contemplating whether to take the CCISO training program or not, here's why you should. Aside from the reason that the CCISO is written for information security executives that want to be CISOs through improving their skills and knowledge to integrate information security programs with business objectives and goals, the CCISO is essential for the following reasons:

In case you're not aware of it, the EC-Council's CCISO certification program is accredited by the American National Standards Institute (ANSI), which is one of the many certification authorities primarily focused on guaranteeing that the information security expert meets the ANSI/ISO/IEC 17024 Personnel Certification Accreditation standards.

Written by Seasoned Experts
The CCISO is written by seasoned experts who designed the program that draws from their daily tasks as a guide. The board is made up of security leaders from HP, Universities, the City of San Francisco, Lennar, Amtrak, the Center for Disease Control, and other consulting firms. These advisory boards have shared their vast knowledge to construct a program that deals with the absence of a leadership training program within the information security setting.

Acknowledges the Value of Real-World Experience
To obtain a holistic understanding of what to expect while in the information security domain, CISOs must have prior knowledge before securing a C-Level job. This is why the CCISO certification program consists of various real-world events that confront modern CISOs worldwide.

Focused on C-Level Management through the Five Domains
By concentrating on the five domains, including governance and risk management; Information Security Controls, Compliance, and Audit Management; Security Program Management & Operations, Information Security Core Competencies; and Strategic Planning, Finance, Procurement, and Vendor Management, the EC-Council is not only able to assure you that their beliefs align with those of the NCWF, but they are also able to match the demands of businesses and other organizations globally.
Frequently Asked Questions
Why should I consider the Certified CISO program?
If you're planning to sit for the Certified CCISO exam or you are still considering whether to enroll for this course or not, there are a few things you should consider. Regardless of their size or nature, every organization depends on computer databases and networks to stay connected with their customers, clients, employees, and partners. This is why the Certified Chief Information Security Officer (CCISO) is essential.
Another reason you should consider the CCISO is that this certification program is not merely focused on the technical part of the CISO job but drafted from executive management. Thus, the training program is constructed around acting in response to instances written by seasoned CISOs who designed the program using their daily tasks as a guide.
The CCISO certification program initially started to support an underserved segment of the market: executive cybersecurity management. There's a need for executives to realize how to manage their programs' budgets tactically since nobody can ever have adequate financial resources to back up all the projects they want.
Now, the way the CISO attempts to determine what technology to replace, what projects to fund and which to postpone to the coming years, what roles to outsource, or what training to organize or pay for their staff, and so on, are some of the most significant aspects of a CISO's job. Unfortunately, CISSP wasn't enough to serve this need, so the EC-Council launched the CCISO program in 2011 to take the CISSP to the next level.