Securing ERP Systems: Strategies & Threats in Modern Business Operations
As organizations transition to the most up-to-date ERP (Enterprise Resource Planning) systems, they must address security oversights. ERP systems encompass various elements in manufacturing, human resource, supply chain, procurement, inventory, and other departments. By consolidating business processes into integrated systems, ERP systems enable organizations to achieve greater efficiency, automation, and insight across their operations. However, security design is often overlooked, and there are many instances in which perimeter defenses fail, resulting in security breaches. ERP system attacks can have far-reaching consequences and long-lasting implications on organizations, primarily financial and reputational damages.
The U.S. Department of Homeland Security's Computer Emergency Response Team (US-CERT) alerted SAP customers about outdated and misconfigured SAP systems and what threats business applications were exposed to. SAP Enterprise Resource Planning (ERP) applications resided on the application-layer level and were independent of core operating system environments. This vulnerability gave hacktivists complete control of business information and processes in their ERP systems, including potential access to other systems (Agency, 2016).
Supply chain attacks in the U.S. have increased by 42% since the first quarter of 2021 and have affected up to 7 million consumers (Katya Defossez, 2022) Hackers are becoming sophisticated with their attacks. They will stop at nothing to disrupt ERP systems and applications. Companies cannot function without proper enterprise resource planning and security, and ERP systems house critical business data.
The risk of not securing ERP systems can be complex and lead to significant downtimes, loss in reputation and finances, damaged customer trust, and other implications that could impact the business in the future. If the stolen data is altered, the restoration costs also go up.
Staying on top of emerging ERP system threats and properly securing business data continues to be a challenge for small to mid-size enterprises (SMEs) and large corporations. Moving to private clouds can improve security for on-premise ERP solutions. However, this is just the first step, and there are many security measures enterprises can take to stay protected.
7 Best Practices to Keep Your ERP Systems Secure and Enhance Cybersecurity
Here are the 7 best cybersecurity practices organizations can implement to make their ERP systems more secure.
1. Add Multifactor Authentication
Personal login credentials may sometimes be intertwined with business passwords, which could put ERP systems at risk. Most ERP systems are also web-based and exposed online by default. Enabling multi-factor authentication can prevent hackers from gaining access to these credentials by forcing them to have access to physical devices. Most employees know how two-factor authentication works and multifactor authentication goes a step beyond it by adding additional layers of security for all accounts.
2. Perform Software Updates
Now software updates are critical to an organization's cybersecurity health. Many companies have networks and workstations that need to be regularly updated, which could put employees at risk. It's important to update software programs to their latest versions as this prevents vulnerabilities from being exploited. Developers have in mind the evolving threat landscape and implement bug fixes in these updates. Consistency is critical, and it's important to periodically patch systems. Both these measures will prevent unwanted SQL injection attacks, unauthorized remote access, and other issues that could plague organizations in the future.
3. Design an Incident Response Plan
Good incident response planning can prevent a security breach before it happens by investigating and remediating from the roots. Security incidents affect businesses and can have significant legal repercussions if not addressed appropriately. An incident response plan is a vital component of any cybersecurity strategy and is essential for organizations to ensure compliance with the latest industry standards. It's a good practice to start with designing a base incident response plan and making improvements to it as the organization scales up. Security analysts should document all processes as part of incident response planning.
The following are general guidelines organizations should pursue when designing an incident response plan.
a. Identify the Incident
The first step to designing a good incident response plan is identifying the incident and alerting users. This involves continuous monitoring, using threat detection tools, and extensive reporting. If any malicious or unusual activity is detected on networks, it should be immediately logged and reported.
b. Contain the incident
Once a security incident is detected, organizations should do everything they can to contain it. Containing a security incident will prevent it from escalating and eliminate potential large-scale data breaches. This phase involves isolating the security incident, blocking communications, and restricting access to authorized accounts. Implementing the principle of least privilege is a good security policy for all organizations when it comes to restricting account access by default.
c. Assess Impact and Risk
The organization should define the scope of the security incident and assess its current impact. How many systems were compromised and to what extent data was breached should be inspected. After receiving insights about the incident post-analysis, the organization should also implement steps to mitigate future risks.
d. Investigate and Eradicate
This is the phase where the organization should thoroughly investigate and identify methods of compromise attackers use. It will pinpoint the source of the cyber attack as well. The eradication phase is about removing said attack from ERP systems and ensuring that security gaps are closed. The goal is to ensure it never happens again and prevent further damage by taking appropriate action.
e. Data Recovery and Backup
If any sensitive information can be recovered, the organization will attempt to retrieve it. Data recovery is about restoring ERP systems to factory defaults or to a stage where they were functioning normally before the incident occurred. The incident response process includes data backup, where companies notify internal teams and partners to create secondary copies of data for safe storage. The backed-up data can be stored on the cloud or across multiple physical locations, which attackers won't have access to.
f. Review and Update
The final phase of incident response planning is to review and update the incident response plan. All findings are reported to stakeholders, and teams are informed about the present situation. The effectiveness of the incident response plan is tested, and its efficacy is proven through results.
All actions and processes are documented throughout, analyzed, and stored for future reference. Conducting a post-incident review is also a part of this phase, where organizations incorporate actions into future incident response planning and training.
4. Enforce Strong Password Policies
Employees should know how to craft strong passwords and make it difficult for hackers to hijack their accounts. Unfortunately, some employees have poor password creation and management habits.
Organizations need to fix this by implementing strong password management practices.
A good password should include the following elements:
not contain personal information
be at least 12 characters long
be unique for every account and not shared with anyone
contain a mix of uppercase and lowercase numbers, letters, and special symbols
Some organizations prefer using a random password generator that regularly scrambles and updates passwords across all accounts. This is an excellent solution for those who cannot remember passwords, want to prevent creating duplicate passwords, and prevent potential data breaches through active monitoring. A password management vault can make it easier to store passwords securely for all user accounts. Users can use the master key to access the vault and view their secured credentials.
5. Educate Employees
It's essential to educate employees about the role they play in safeguarding the organization's security. Taking personal accountability for data is critical and shouldn't be dismissed. Users should be educated on cyber hygiene practices and know what to do and what not to do when interacting with strangers online. Organizations can involve users in security decision-making and proactively test their knowledge by conducting phishing simulations. It's essential to collect feedback from employees when conducting regular vulnerability assessments.
6. Monitor Proactively
Weak connections between mobile devices and ERP systems can produce security vulnerabilities that may go undetected. Organizations must perform stringent audits and prioritize different threats based on risk levels. Make sure to identify areas of improvement, look for flaws, and address security gaps before they escalate into a big problem. A good exercise for companies is threat modeling, as this provides a holistic perspective of the overall security posture.
7. Future-Proof Everything
Be fully aware of the different components of ERP systems and understand how they work. Identify potential and unknown risks and take steps to ensure appropriate threat remediation. It's important to implement proper security controls to minimize risk exposure and apply in-depth penetration testing and control audits.
IT and security teams must note that security is a proactive measure that doesn't stop once all current threats have been eliminated. The cyber threat landscape constantly evolves, so it's critical to iterate and reiterate the latest security measures. Organizations should focus on updating their security policies and keep in mind upcoming industry regulations and standards.
Cloud automation should be used to future-proof cybersecurity. Machine learning and autonomous security controls can help manage critical systems in the event of increasing volumes of data and cyber attacks.
By implementing these measures, companies can modernize their threat defense strategies and prevent unauthorized users from accessing sensitive data.
What Should You Do in Case of a Data Breach
If a data breach happens and it's unexpected, organizations should immediately halt all operations and freeze accounts in the network. This will prevent malware from spreading and prevent the incident from escalating further.
Everyone is at risk of having their accounts hijacked, so passwords should be changed immediately. Check which systems have been affected and consider using identity theft protection services. Don't click on malicious links; confirm if the breach has happened.
Once the breach is confirmed, it's essential to identify its scope and contain it. Find out what data was stolen and what damage has been done already. Then alert users about possible implications and what they can do to avoid panic and stay protected. Be sure to update your antivirus software and use a virtual private network (VPN) service to securely log in to company accounts.
Tracing the source of the breach will be a matter of analysis, digital forensics, and continuous testing. Before that, it's important to lock out ERP systems, take the time to investigate the security incident, and find out where the organization went wrong in maintaining its security posture.
Conclusion
No cybersecurity strategy is perfect, and it's vital to remember that policies can change along with the latest security measures. Implementing these best ERP cybersecurity practices will help you improve your organization's security posture, but this is merely a starting step. The best strategy is proactively updating your security, scanning for threats, and ensuring that users stay alert. Every company is different, and there may be additional steps you'll need to take to improve your organization's cybersecurity.
References
Agency, A. C. (2016, 29 September). Exploitation of SAP Business Applications. Retrieved from CISA.gov: https://www.cisa.gov/news-events/alerts/2016/05/11/exploitation-sap-business-applications
Katya Defossez, W. R. (2022, March 24). Seven steps to help protect your ERP system against cyberattacks. Retrieved from McKinsey: https://www.mckinsey.com/capabilities/mckinsey-digital/our-insights/seven-steps-to-help-protect-your-erp-system-against-cyberattacks
Sikich. (2023, April 24). Incident Response Planning: A Vital Component of Your Cybersecurity Strategy. Retrieved from Sikich: https://www.sikich.com/insight/incident-response-planning-a-vital-component-of-your-cybersecurity-strategy/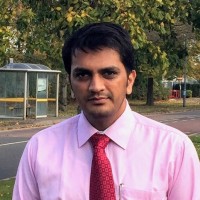 Cybersecurity Director, Aligned Automation
Vinjaram Prajapati currently works as Cybersecurity Director for Aligned Automation. Vinjaram is an information security expert with over 17 years of experience in the industry. He has excellent client relationship-building prowess and is an established decision-maker who mentors his team to meet project milestones. As a leader, he oversees project milestones and mentors team members to achieve those goals. Throughout his 17-year career, Vinjaram Prajapati has developed and delivered information security solutions to promote business opportunities in the cybersecurity space.