Ransomware is one of the most dangerous cyber attacks, which aims to capitalize on the victim's gullibility and maximize profits by exploiting their access security. Ransomware criminals go to great lengths to thwart organizations and pose risks to different elements of security systems, especially IT networks, databases, and Cloud platforms. Information is intelligence, and cyber attackers sell data on the dark web, causing companies staggering losses in revenue, trade secrets, and business reputation.
Privileged access management solutions and multifactor authentication offer centralized control over passwords against ransomware threats, thereby making it harder for criminals to breach networks. There are many different methodologies for detecting ransomware infections in organizations; however, security teams find the best results when they coordinate these testing strategies effectively. The best way to stay ahead of ransomware attacks is to be aware of common threat vectors, tactics, and techniques cybercriminals employ. Ransomware recovery is possible, and protecting your data is not easy but worth it. Unchecked threats may sometimes go undetected and steal years of valuable information, which may be critical to an organization's future success. Hackers attempt to lock out systems and publish leaked data which can have delirious consequences for companies. The ransomware threat landscape is constantly evolving, which means users must build strong cybersecurity foundations and policies for their organizations.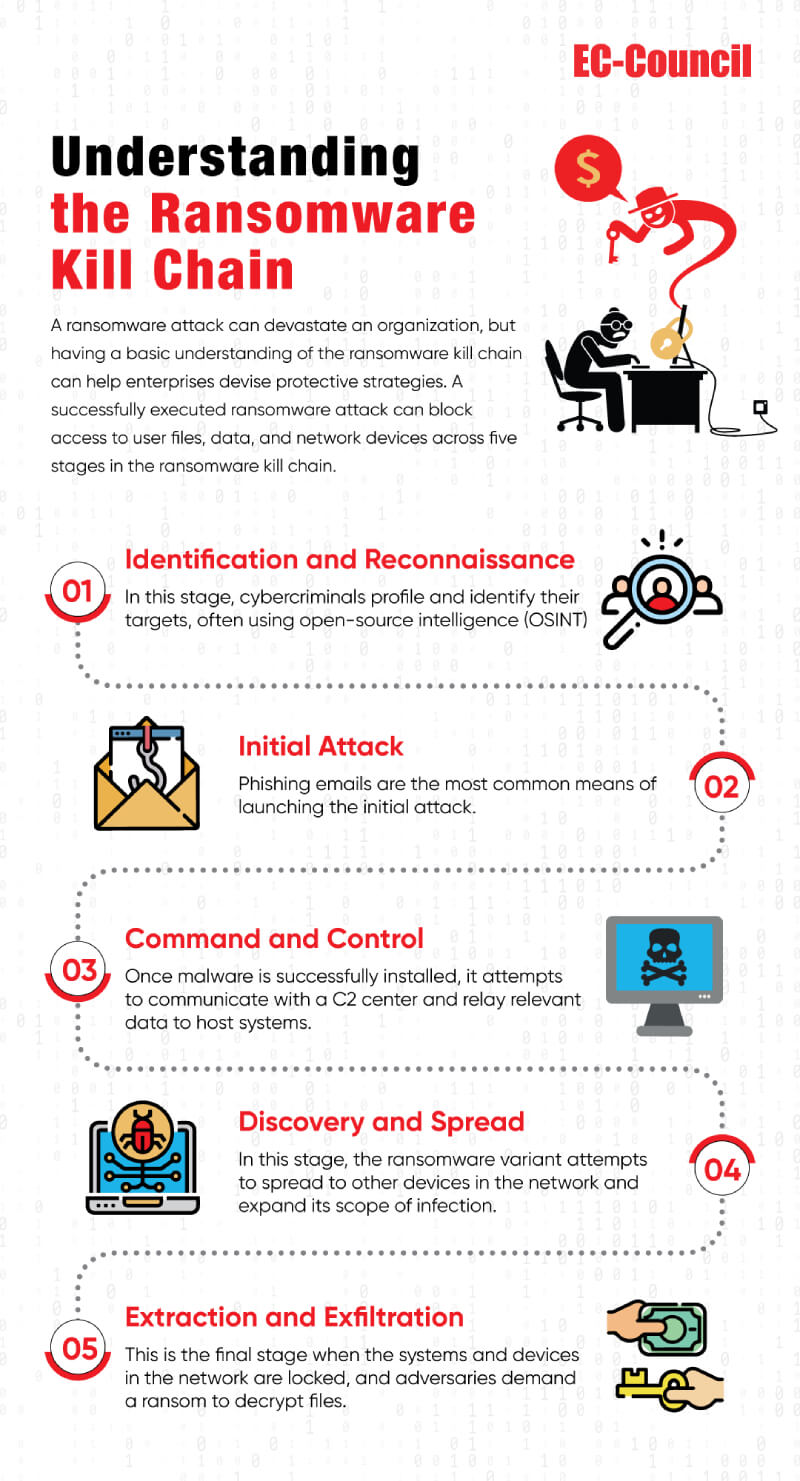 To understand how these attacks work, security analysts need to view crimes from the eyes of their adversaries. The anatomy of a ransomware attack details the structure of these threats and explains how malware programs stay hidden in corporate networks. In this whitepaper, you will uncover how these threats originate, the steps attackers take to plant ransomware onto target machines, and an overview of ransomware–as–a–service.
The whitepaper will explore key ransomware statistics, data, and trends to discover industry insights from these sources. By the end of the paper, you will have a clear understanding of the Ransomware Kill Chain, including what steps to take to safeguard their networks and systems from ransomware infections and mitigate overall risk. It is also the perfect guide for anyone new to the world of ransomware and needs an introduction to how to get started on the road to ransomware prevention.