Helping Educators Build World Class
Cybersecurity Programs
SUPPORTING LEADING CYBERSECURITY PROGRAMS IN OVER 135 COUNTRIES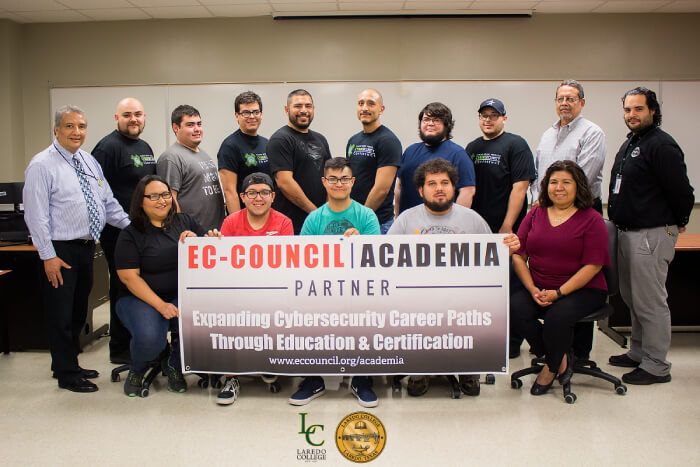 How partnership works for academic institutions​
Apply for partnership and unlock automatic discounts
Review course mapping, eBooks, labs, and additional evaluation resources
Adopt Academia Series courseware and learning resources

Grow your programs, certify students, and start impacting the workforce
There are not enough hours in a day for educators. Our partnership supports you with the following resources to free up more time!
Certification

Curriculum Development

Research / Technology

Cyber Competitions

Workforce Alignment & Job Role Mapping

Cyber Ranges

Lesson Plans

Video Lectures

Case Studies

Skill Development
"The values and criteria of the selection process directly reflect our mission of preparing students for EC-Council certifications, graduation and the workforce," said Douglas Harrison, Vice President and Dean of UMGC's School of Cybersecurity and Information Technology. "That the number of UMGC students pursuing EC-Council certifications is one of the largest in the country reflects our commitment to providing students with the skills employers value most." ​
Douglas Harrison, Vice President and Dean of UMGC's School of Cybersecurity and Information Technology ​
"Working with a program that believes in improving skills for entry-level cybersecurity technicians is critical to better our local, state, and national cybersecurity stance; fortunately, EC-Council consistently delivers needed resources quickly and accurately for our student population." ​
Ervin Frenzel, Director of Workforce Cybersecurity - Collin College​
"We are proud of the work we do with EC-Council to educate the current and future cybersecurity workforce through courses, certificates, and degree programs aligned to EC-Council certifications. We look forward to continuing our collaboration with EC-Council to help prepare future cyber professionals and help current cyber professionals specialize in their skills."​
Kathryn Uhles, Associate Dean, College of Business and Information Technology​
"EC-Council has always been one of the most supportive and collaborative academic vendors that I am fortunate to have as part of my team. The members of the team are always ready to support and sponsor our Cyber events as well as keep our curriculum on the cutting edge with the ever-changing demands from the IT industry."​
Gregory Hirsch, Associate Professor and Chair of Information Technology and Business Department, Vincennes University ​
"The EC-Council has a broad range of academic resources, from their Essentials Series through to their more specialised certification titles that provide both theoretical and practical application of cyber skills which help keep students and staff up to date in the latest industry practices. I am proud of what our staff and students have achieved in a short time. "​ ​
Sage Lal, Director of Curriculum - Burton and South Derbyshire College​
"JECRC University is committed to rigorously train students in this field and make a difference in the Cyber Security workforce. Through our partnership with EC-Council, the students at JECRC University can choose to undergo certifications from a bouquet of contemporary courses in the domain of Cyber Security. Currently, approx. 500 students are benefiting from these well-curated courses."​
Arpit Agrawal, Vice Chairperson – JECRC​​
Accreditations, Framework Alignments, & Endorsements