EC-Council Accredited Training Centers (ATCs) are a network of global training centers that offer up-to-date training, testing, and credentialing services, accredited by EC-Council, to meet international training and credentialing standards.
As an Accredited Training Center, you will have the opportunity to learn from our Certified EC-Council Instructors (CEIs) in quiet classroom settings. CEIs will prepare you for our various industry-recognized credentialing programs.
Becoming an EC-Council Accredited Training Center
Fill in your details. We will get back to you within 48 hours.
"*" indicates required fields
As an EC-Council ATC, you enjoy exclusive benefits including:
Requirements to Become an ATC

Annual Renewal Fee of US $250
Multiple Location Pricing of US $400 for each additional branch

A Certification or expertise in security technology focus is a must
Each new partnership will require an upfront purchase of EC-Council Official Courseware
Minimum of 1 Certified EC-Council Instructor is required for delivering security certification programs
Sales/ Marketing/ Business Development infrastructure is preferred

At least 1 reference from a customer with whom you have worked with is mandatory It is a must to provide a Primary Relationship Contact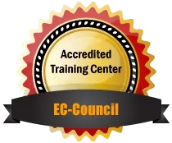 As an EC-Council ATC, you get the exclusive opportunity to win the "ATC of the Year award," a prestigious award for the top performing EC-Council Accredited Training Centers of each region.
About EC-Council Global Awards
The annual EC-Council Global Awards provide recognition and reward to EC-Council's best performing training partners, institutions, and certified instructors across more than 90 countries.
Each year, EC-Council honors Accredited Training Centers and Certified Instructors who have made distinguished contributions to the success of EC-Council certification programs and made a difference in the rapidly evolving information security and ethical hacking domain.
All ATCs and CEIs are invited to participate in the awards and stand a chance to win!
This award adds value to your ATC in many ways.

Winners of the awards will have significant coverage in the prominent communication medium. Global Award winners will be showcased on EC-Council's website and will receive coverage in all global press releases. ATC and C|EI of the Year will also be given priority referral.

Winning entries serve as a resource for future Global Awards entrance. Winning Accredited Training Centers and Certified Instructors epitomize the industry's best practices, raise standards, and contribute to a growing body of knowledge about information security. Every applicant will be able to see how they perform and learn from their accomplishments.

The high standard of professionalism of the award-winning training centers and instructors will be greatly recognized. This will increase their visibility and enhance brand awareness.
Adherence to Utmost Confidentiality
As an EC-Council partner, you are required to ensure that any student's and/or member's personal and certification information is confidential and is not shared with any parties external to EC-Council. Only accreditation bodies such as ANSI are purview to certain information during auditing sessions and these are governed by strict Non-Disclosures.
Candidate's personal and certification details are deemed to be confidential in nature and we are not at liberty to divulge those details to third parties, including our partners. The only way we can release the details is when a candidate expressly consented to the release of his/her details by way of submitting the completed Information Release Policy form to
[email protected]
.
We would like our respected partners to inform their candidates to write DIRECTLY to EC-Council ([email protected] and [email protected]) for any type of assistance as confidential information may have to be divulged in the communication between the candidates and EC-Council.
Your attention and understanding on this matter are highly required and appreciated.