Croatian Ethical Hacker takes the top spot in the Global Ethical Hacking Challenge. The C|EH Compete Challenge, organized by EC-Council, the world leader in cybersecurity training and certification, brought together aspiring information security professionals from all over the world to compete against one another and earn recognition as part of their ethical hacker training.
Tampa, Florida, December 1, 2022 — EC-Council hosted the Certified Ethical Hacker (C|EH) Competition for November, in which aspiring cybersecurity professionals who are preparing to become Certified Ethical Hackers battled each other on EC-Council's proprietary patented cyber range, Cyber Q. The Global Certified Ethical Hacker Compete Challenge is a four-hour Capture the Flag (CTF) style competition, and the November 2022 competition was based on system hacking and privilege escalation, where candidates raced to beat other competitors to make it to the top 10 on the global leaderboard.
In January 2022, Crypto.com was compromised, and hackers stole more than $30 million in bitcoin. In November 2022, FTX, a leading crypto exchange, collapsed after more than $600 million was siphoned from FTX's crypto wallets due to a possible hack. This is one of many examples of the impact of cybersecurity risks that organizations face today. These risks accentuate the need to rapidly develop ethical hacking skill sets worldwide.
The Global C|EH Leaderboard platform promotes the development of hands-on skills for the cybersecurity community and tests the mettle of Certified Ethical Hackers. We also recognize the accomplishments of these aspiring ethical hackers through the C|EH Compete series.
EC-Council proudly congratulates its Accredited Training Centers, ACADI-TI in Brazil, Wissen International in Singapore, and XEDUCONET in Romania, for providing their students with the highest quality C|EH training, enabling their students to make it to the top 10 C|EH November Global Challenge Leaderboard.
Robert Petrunic from Croatia captured first place on the global leaderboard, followed closely by Daemon Gibson from the United States. Glauber Castelani from Brazil secured third place.
Jay Bavisi, President and CEO of the EC-Council Group, says, "We wish to congratulate everyone who made it to the top 10 of the global ranking. The C|EH program prepares candidates to qualify for a variety of industry-specific job roles, and every participant must complete these challenges within 4 hours to demonstrate their skillset. C|EH Compete actively challenges candidates to demonstrate critical thinking skills gained through C|EH training and to put these skills to the test in the curated CTFs. The C|EH Compete framework is designed to provide candidates with hands-on experience and to keep their skills current."
In this competition, each participant is required to demonstrate a deep understanding of various system-level attack vectors and techniques, such as security misconfiguration, encoding schemes, privilege escalation, cryptography, command injection, and credential attacks. Successful conquest of this competition assures that the candidates possess high-level professional skills required for red teaming and pen testing assignments. The challenge requires each candidate to employ the complete system exploitation methodology from reconnaissance to lateral and vertical privilege escalation and data exfiltration.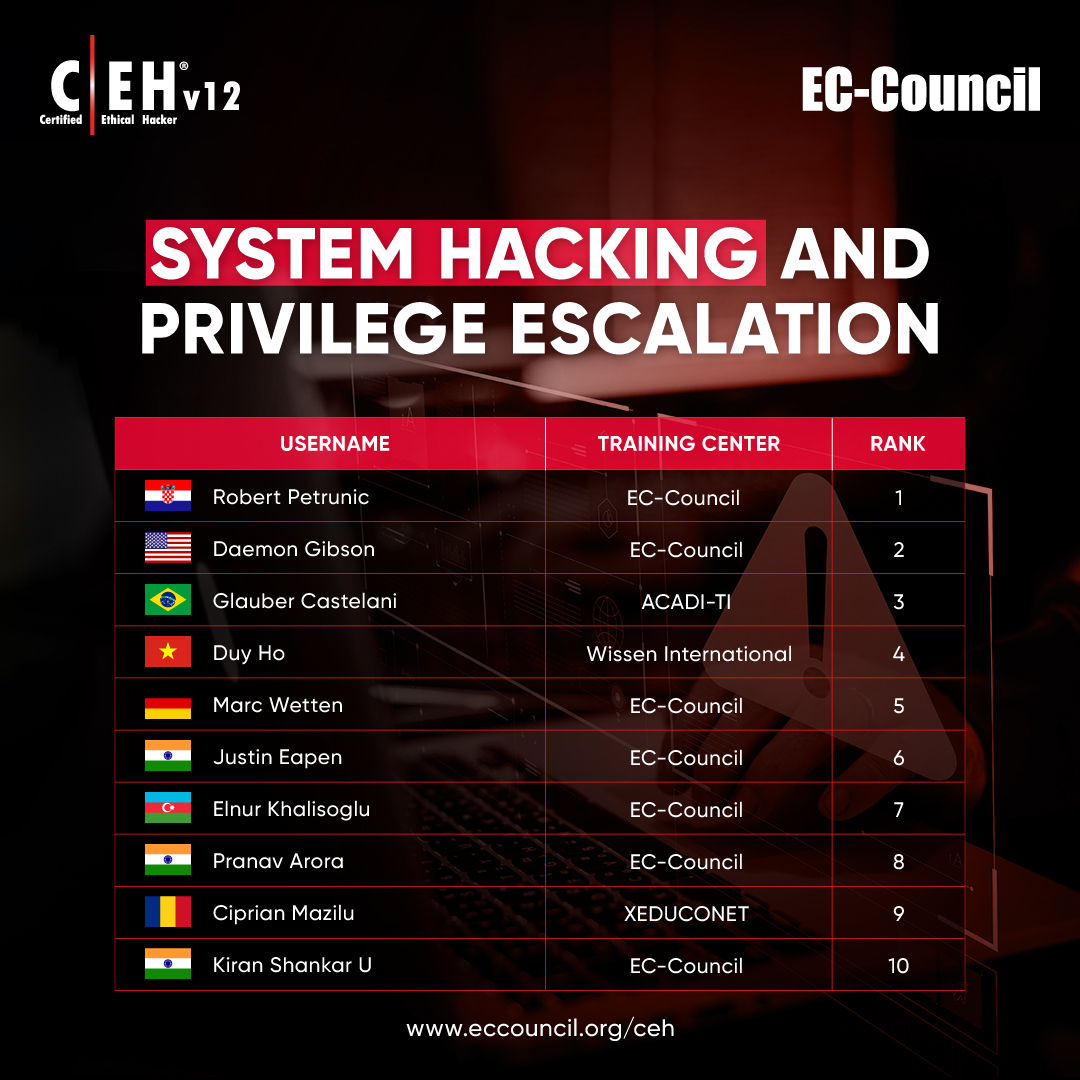 The November competition is part of a 12-month continuous training for Certified Ethical Hackers among the world's elite cyber professionals. Participants access the latest technologies and platforms, including hacking web applications, OWASP Top 10, SCADA, ransomware analysis, cloud attacks, social engineering IoT hacking, DDoS attack, supply chain cyberattacks, etc.
The ethical hacking industry presents a wide range of possibilities for growth. In its 12th edition, the C|EH provides a cutting-edge methodology called Learn, Certify, Engage, and Compete.
After completing C|EH v12 training, candidates will participate in a 12-month global hacking competition using the Compete methodology. The C|EH Compete structure enables students to put their learning skills to the test through capture-the-flag style competitions against some of the world's top ethical hackers. The Global C|EH Compete helps competitors refine their cyber skills against various new target organizations.
To view the annual calendar of the C|EH Compete Series, please visit the following page:
About EC-Council:
EC-Council's sole purpose is to build and refine the cybersecurity profession globally. Its core mission is to help organizations, educators, governments, and individuals address global workforce problems by developing and curating world-class cybersecurity education programs and certifications while providing cybersecurity services to some of the largest businesses around the world. EC-Council is trusted by seven of the Fortune 10 companies, 47 of the Fortune 100 companies, the U.S. Department of Defense, global intelligence communities, NATO, and more than 2,000 of the world's best universities, colleges, and training companies. EC-Council programs are available in more than 140 countries and set the bar for cybersecurity education.
Learn more at www.eccouncil.org
Follow EC-Council on LinkedIn and Twitter
Mail to: [email protected]