Albuquerque, NM: July 27, 2019
Amidst the growing cybercrime reports in the emirate, EC-Council organized a Certified Ethical Hacker (C|EH) Masterclass and Certified Chief Information Security Officer (C|CISO) Masterclass in Dubai from July 21-24, 2019.
The Dubai police cybercrime division recorded over 9,000 cybercrime reports in the first year of its Police E-Crime platform, where citizens can directly report their cases. The banking sector in the region has experienced a staggering 800 bank fraud cases in the past three years. The threat to a company's software, hardware, information systems, and data is on the rise in the region, creating a need for certified professionals that can combat this.
EC-Council, through its event, offered a platform to validate information security professionals who are equipped with the necessary skills and knowledge required in a specialized information security domain. It aimed to equip professionals with the required skill set needed to avert a cyber conflict, should the need ever arise.
"The C|EH Masterclass focuses on immersing the participants into the hacker mindset and training them to look for vulnerabilities in a company's system, which hackers can exploit. Certifications are earned only by the participants who prove their mettle by showcasing their ability to solve a security audit challenge set in a simulated virtual environment via the exam," said Jay Bavisi, President of EC-Council Group.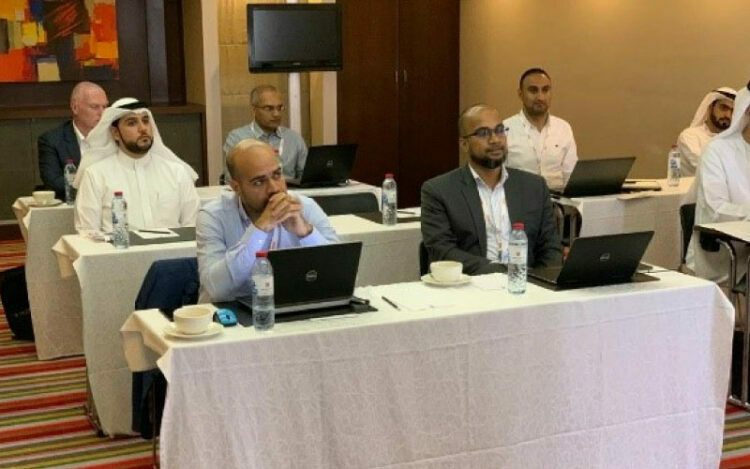 The C|CISO Masterclass is EC-Council's executive-level certification program that teaches participants to create and manage robust security programs. It covers information ranging from governance and compliance to access management and audits to risk management and controls to strategic program development and finance.
The topics covered include essential expertise like how to make sure security is part of the business flow of procurement, human resources, and the entire IT eco-system in general. C|CISO is the training needed for managers aspiring to become executives and executives needing to hone their skills.
The Masterclass training in Dubai was attended by IT professionals from various fields, including legal, financial, telecommunications, education, service, and technology.
About EC-Council Masterclass:
EC-Council, via its Masterclass series, offers high quality, affordable, hands-on cybersecurity training in a comfortable and traditional classroom environment. The training is delivered by EC-Council's Master Trainers who are industry experts with years of experience in handling the most complex threats. The courseware is structured according to industry standards and is available online with round-the-clock access for quick learning. The Masterclass series provides an opportunity to network with peers to discover the best practices and trends in the industry. Visit our website page for more details on Masterclass: https://masterclass.eccouncil.org/
About EC-Council:
EC-Council has been the world's leading information security certification body since the launch of their flagship program, Certified Ethical Hacker (C|EH), which created the ethical hacking industry in 2002. Since the launch of C|EH, EC-Council has added industry-leading programs to their portfolio to cover all aspects of information security including EC-Council Certified Security Analyst (ECSA), Computer Hacking Forensics Investigator (C|HFI), Certified Chief Information Security Officer (C|CISO), among others.
EC-Council Foundation, the non-profit branch of EC-Council, created Global CyberLympics, the world's first global hacking competition. EC-Council Foundation also hosts a suite of conferences across the US and around the world including Hacker Halted, Global CISO Forum, TakeDownCon, and CISO Summit.
Learn more at www.eccouncil.org