EC-Council, the provider of world-class cyber security training programs, hosted its August C|EH Compete Challenge on Mobile Attack/Hacking, gathering the participation of top talents from around the world as they raced against the clock in a 4-hour capture the flag competition to earn coveted spots on the C|EH Compete Leaderboard.
Tampa, Fla. (Sept 12,2023): The C|EH Compete challenges, held as a part of the C|EH v12 curriculum, offer ethical hackers a golden opportunity to gain recognition for their job-ready cyber security skills by participating in a scenario-based monthly global hacking competition. With a specially crafted set of custom skill challenges on par with the recent cyber security developments, the C|EH Compete challenges ensure that participants gain exposure to the latest tools and technologies and acquire skills in exploiting emerging security vulnerabilities.
Cyber security is an evolving field, and to stay on top of the game, professionals must continuously acquire skills that prove their competence in tackling industry-level security challenges. By incorporating global ethical hacking challenges in its curriculum, EC-Council's C|EH v12 certification goes beyond mere training to enable candidates to acquire market-relevant skills. Victorious candidates gain a chance to validate their ethical hacking prowess in tackling real-world challenges and boost their employability by keeping their skills and certifications current.
The August challenge edition, crafted on the theme of Mobile Attack/Hacking, evaluated participants' skills in assessing the mobile device security of KYC InfoSystem Inc.'s employees after a case of Android application permissions misuse enabled malicious hackers to gain illegitimate access to organization's data.
With the global mobile device security market expected to reach around USD 20.46 billion by 2030 (according to Statista), the demand for skilled professionals is anticipated to soar too. By presenting the August challenge on Mobile Attack/Hacking, EC-Council proves the relevance of its C|EH Compete challenge themes with regard to the current cyber security landscape.
Participants raced against the clock in a 4-hour capture-the-flag challenge to prove their merit in mobile security and battle to the top 10 positions on the C|EH Compete leaderboard. At the end of a fierce competition, Lau Hao Ying from Singapore emerged as the winner, taking first place, followed by Ryan Mraz from United States securing second, and Anuj Nirval from India in third.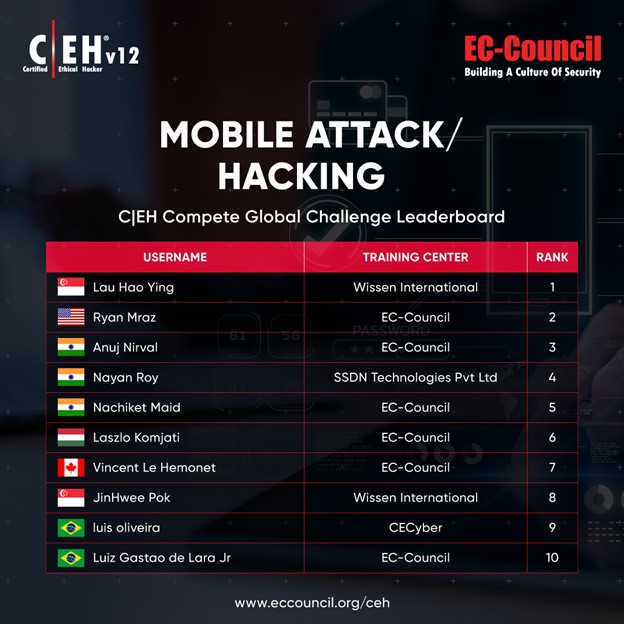 EC-Council proudly congratulates its Accredited Training Centers, Wissen International in Singapore, SSDN Technologies Pvt Ltd in India, and Wissen International in Singapore, and CECyber in Brazil for providing their students with top-notch C|EH training and assisting them in making it to the top ten rankings on the C|EH August Global Challenge Leaderboard.
The C|EH v12, with its unique learn-certify-engage-compete methodology, helps students leverage lab-based training to develop practical skills in handling real-world threat scenarios. As the demand for qualified cyber security professionals increases, the C|EH certification helps aspiring ethical hacking professionals gain in-demand cyber security skills through rigorous hands-on practice in encountering the latest challenges.
About EC-Council
EC-Council invented the Certified Ethical Hacker. Founded in 2001 in response to 9/11, EC-Council's mission is to provide the training and certifications apprentice and experienced cyber security professionals need to keep corporations, government agencies and others who employ them safe from attack.
Best known for its Certified Ethical Hacker program, EC-Council today offers 200 different trainings, certificates, and degrees in everything from Computer Forensic Investigation and Security Analysis to Threat Intelligence and Information Security. An ISO/IEC 17024 Accredited Organization recognized under the US Defense Department Directive 8140/8570 and many other authoritative cyber security bodies worldwide, the company has certified over 350,000 professionals across the globe. Trusted by seven of the Fortune 10, half of the Fortune 100, and the intelligence communities of 140 nations, EC-Council is the gold standard in cyber security education and certification.
A truly global organization with a driving belief in bringing diversity, equity and inclusion to the modern cyber security workforce, EC-Council maintains 11 offices in the US, the UK, India, Malaysia, Singapore, and Indonesia. The company can be reached online at https://www.eccouncil.org/
Follow EC-Council on LinkedIn and Twitter
Mail to: [email protected]