EC-Council's Masterclass has been successfully conducted in Bahrain on C|CISO, and Nairobi on C|CISO, and C|EH Master
EC-Council is proud to announce the successful completion of our C|CISO (Certified Chief Information Security Officer) training in Bahrain starting from 28th April 2019 to 1st May 2019 at Crowne Plaza, Manama, Bahrain. Ten students attended the training, and it was delivered by our master trainer, Joe Voje, CISO, Oregon Health and Science University, USA.
(EC-Council Masterclass in Bahrain)
On the similar calendar, EC-Council has completed C|EH Master (Certified Ethical Hacker) and C|CISO (Certified Chief Information Security Officer) training programs in Nairobi starting from 29th April 2019 to 2nd May 2019 at Sarova Stanley, Kenya, Nairobi. The training was conducted under the mentorship of our master trainers Rashtra Shourya and Faisal Yahya for C|EH Master and C|CISO, respectively. Computer Secure being the strategic partner for the region immensely contributed to the success of the training program.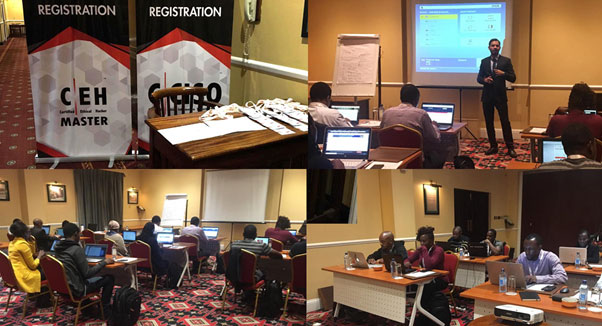 (EC-Council Masterclass in Nairobi)
"The masterclass is an initiative from EC-Council to benefit the cybersecurity community globally with a focus on the improvement of the practical element of cyber talent." – Sean Lim, Chief Operating Officer, EC-Council.
Samule K. Keter, Sr. Cyber Security Consultant – Risk Assurance, an attendee at the Masterclass training said, "The five domains covered on the EC-Council C|CISO are critical for any Chief Information Security Officer to observe and follow. The vast knowledge and experience held by Mr. Faisal Yahya (Master Trainer) have helped me view Information Security in a whole new perspective. The classroom sessions were quite engaging as the various information security leaders from various organizations were able to share their experiences as well as find the correct way to solve the different scenarios. I believe the vast knowledge obtained from the C|CISO masterclass in Nairobi, Kenya will help me continue to add more value to the various clients I interact with on a day-to-day basis. Thank you, Pradeep Sippy, for guiding me to this masterclass training."
About EC-Council Masterclass:
EC-Council via its Masterclass series is offering a high quality, affordable cybersecurity hands-on training in a comfortable traditional classroom environment. The training is delivered by EC-Council's Master Trainers who are industry experts with years of experience in handling the most complex threats. The courseware is structured with industry standards and is available online with round-the-clock access for quick learning. The Masterclass provides an opportunity to network with peers to discover the best practices and learn about the upcoming cybersecurity trends in the industry. Visit our website page for more details on Masterclass: https://masterclass.eccouncil.org/
About EC-Council:
EC-Council has been the world's leading information security certification body since the launch of their flagship program, Certified Ethical Hacker (CEH), which created the ethical hacking industry in 2002. Since the launch of CEH, EC-Council has added industry-leading programs to their portfolio to cover all aspects of information security including EC-Council Certified Security Analyst (ECSA), Computer Hacking Forensics Investigator (CHFI), Certified Chief Information Security Officer (CCISO), among others. EC-Council Foundation, the non-profit branch of EC-Council, created Global CyberLympics, the world's first global hacking competition. EC-Council Foundation also hosts a suite of conferences across the US and around the world including Hacker Halted, Global CISO Forum, TakeDownCon, and CISO Summit.
Learn more at www.eccouncil.org