EC-Council conducted a 4-day classroom intensive cybersecurity Masterclass in the capital city of Saudi Arabia, Riyadh on July 21, 2019, to address the growing issue of cybercrimes in the region.
A recently released Microsoft report makes it clear that Saudi Arabia has become an enticing target for cybercriminals because of the insecure consumer habits and inadequate security measures, highlighting three types of threats that the kingdom faces: botnets, ransomware, and social engineered attacks.
"EC-Council has launched its Masterclass training program to ensure that cybersecurity professionals are equipped with the right tools to fend off these attacks. We are dedicated to the mitigation and remediation of the cyber plague that is menacing the world today. The latest Certified Ethical Hacker (CEH) Masterclass training program was launched in Riyadh with exactly that goal in mind," said Jay Bavisi, President of EC-Council Group.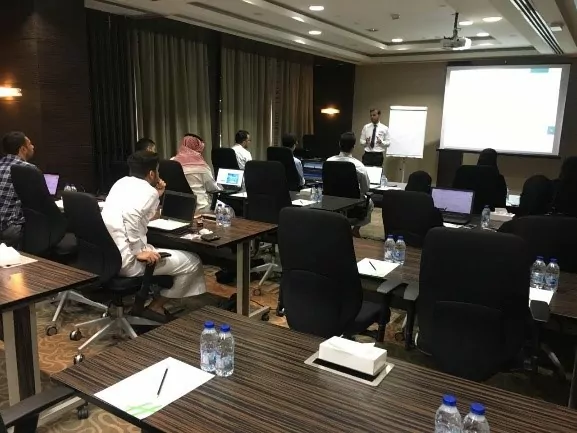 The session focused on immersing the participants into the hacker mindset and identifying weaknesses in a company's IT systems. Once susceptible areas are discovered, information security professionals are trained on how to deal with the threat while shoring up defenses.
To achieve the CEH certification, the participants are tested in a 6-hour vigorous exam held in a simulated virtual environment where the skills they have learned are put to the test.
This course was attended by a group of participants from diverse sectors ranging from communication to finance. The intensive classroom training was conducted by industry practitioner and award-winning EC-Council Master trainer through interactive, hands-on training.
About EC-Council Masterclass:
EC-Council, via its Masterclass series, offers high quality, affordable, hands-on cybersecurity training in a comfortable and traditional classroom environment. The training is delivered by EC-Council's Master Trainers who are industry experts with years of experience in handling the most complex threats. The courseware is structured according to industry standards and is available online with round-the-clock access for quick learning. The Masterclass series provides an opportunity to network with peers to discover the best practices and trends in the industry. Visit our website page for more details on Masterclass: https://masterclass.eccouncil.org/
About EC-Council:
EC-Council has been the world's leading information security certification body since the launch of their flagship program, Certified Ethical Hacker (CEH), which created the ethical hacking industry in 2002. Since the launch of CEH, EC-Council has added industry-leading programs to their portfolio to cover all aspects of information security including EC-Council Certified Security Analyst (ECSA), Computer Hacking Forensics Investigator (CHFI), Certified Chief Information Security Officer (CCISO), among others.
EC-Council Foundation, the non-profit branch of EC-Council, created Global CyberLympics, the world's first global hacking competition. EC-Council Foundation also hosts a suite of conferences across the US and around the world including Hacker Halted, Global CISO Forum, TakeDownCon, and CISO Summit.
To learn more about EC-Council, visit https://www.eccouncil.org/