EC-Council held its April edition of the C|EH Compete global challenge themed on social engineering/phishing attacks to test the ethical hacking competence of C|EHs worldwide.
Tampa, Fla. (May 1, 2023) — Cybersecurity professionals from around the globe competed in the C|EH competition held by EC-Council as part of its monthly Global C|EH Compete Challenge in April 2023. The four-hour-long capture-the-flag (CTF) style competition, which was themed on social engineering attacks, attracted top ethical hackers from around the world, who vied for the coveted top 10 rankings on the global leaderboard rankings
After a challenging competition that tested the participants' competence in various cybersecurity issues, Heitor Magnani, a seasoned ethical hacker from Brazil, secured the top spot in the competition, followed closely by Marjan Sterjev from Macedonia in second place and Prajwal A from India in third place.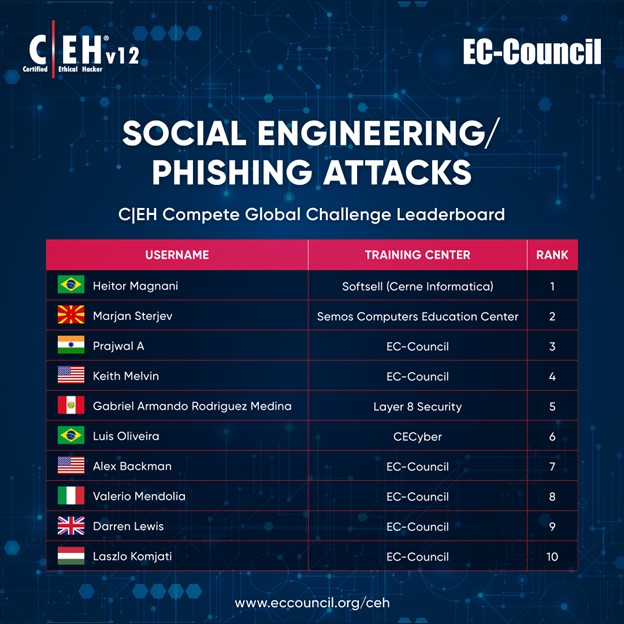 The C|EH competition is designed to evaluate the participants' ethical hacking prowess and to recognize their expertise in the field. It aims to encourage ethical hackers to stay abreast of the latest trends and techniques in the cybersecurity industry and to hone their skills in identifying vulnerabilities and protecting against cyber threats.
The April challenge concentrated on social engineering attacks, which are becoming more widespread in today's digital landscape. Social engineering attacks employ psychological manipulation to trick people into exposing personal information or acting in ways that endanger their safety. Competitions were hosted in EC-Council's patented Cyber-Q range that featured a series of challenges to test participants' ability to detect and prevent phishing, pretexting, baiting, etc., attempts.
EC-Council proudly congratulates its Accredited Training Centers, Softsell (Cerne Informatica) and CECyber in Brazil, Semos Computers Education Center in Macedonia, Layer 8 Security in Peru for equipping their students with top-notch C|EH training and guiding them in making it to the C|EH April Global Challenge Top 10 Leaderboard.
The C|EH Global competitions offer monthly capture-the-flag-style competitions to help learners polish their ethical hacking abilities. After completing C|EHv12 training, candidates will compete in a 12-month global hacking competition utilizing the Compete methodology of the new C|EH learning model.
To view the annual calendar of the C|EH Compete Series, please visit:
https://www.eccouncil.org/programs/certified-ethical-hacker-ceh-compete/
About EC-Council
EC-Council's sole purpose is to build and refine the cybersecurity profession globally. Its core mission is to help organizations, educators, governments, and individuals address global workforce problems by developing and curating world-class cybersecurity education programs and certifications while providing cybersecurity services to some of the largest businesses around the world. EC-Council is trusted by seven of the Fortune 10, 47 of the Fortune 100, the Department of Defense, global intelligence communities, NATO, and more than 2,000 of the best universities, colleges, and training companies. EC-Council programs are available in more than 140 countries and set the bar in cybersecurity education.
Learn more at www.eccouncil.org
Follow EC-Council on LinkedIn and Twitter
Mail to: [email protected]