EC-Council hosted its February C|EH Compete Challenge on web application hacking and pen testing to assess participants' mettle in ethical hacking; announced Luis Oliveira Brazil as the topper among global peers.
Tampa, Fla. (March 1, 2023) – EC-Council, a globally recognized leader in cybersecurity training and certification, organized the C|EH Compete challenge for February as a part of its Certified Ethical Hacker (C|EH) training. The challenge was an opportunity for participants to demonstrate their professional aptitude, as well as their ability to compete against the clock and outperform their peers in a 4-hour capture-the-flag (CTF) style competition. Participants raced against the clock to make their way to the top of the C|EH Compete leaderboard.
The February Compete challenge, based on a web application hacking and pen testing theme, required participants to identify vulnerabilities in an online platform of a retail store by implementing comprehensive web application penetration testing and offering remediation guidance. Participants worldwide battled against their peers to earn recognition by securing top rankings in the C|EH Compete leaderboard.
The C|EH Compete are global challenges that expose candidates to stimulating cyber competitions, put their knowledge to use, and advance their ethical hacking skills by pitting against contestants worldwide. They are hosted in EC-Council's Cyber Range and present candidates with different challenge themes every month, focusing on an ethical hacker's current skills and expertise. The scenario-based engagements introduce participants to new tools and attack vectors to ensure they emerge as industry-ready professionals with practical knowledge.
"EC-Council is committed to developing cybersecurity professionals who can meet the industry's evolving demands. As businesses continue to rely on technological innovation, it is imperative to have ethical hackers who can effectively identify and mitigate security risks. The C|EH Global Compete challenge is a testament to our dedication to providing students with hands-on training that prepares them to tackle real-world ethical hacking challenges." said Jay Bavisi, President and CEO of the EC-Council Group.
The February C|EH Compete challenge witnessed Luis Oliveira from Brazil secure the first position, Glauber Castelani from Brazil the second, and Prajwal A from India the third.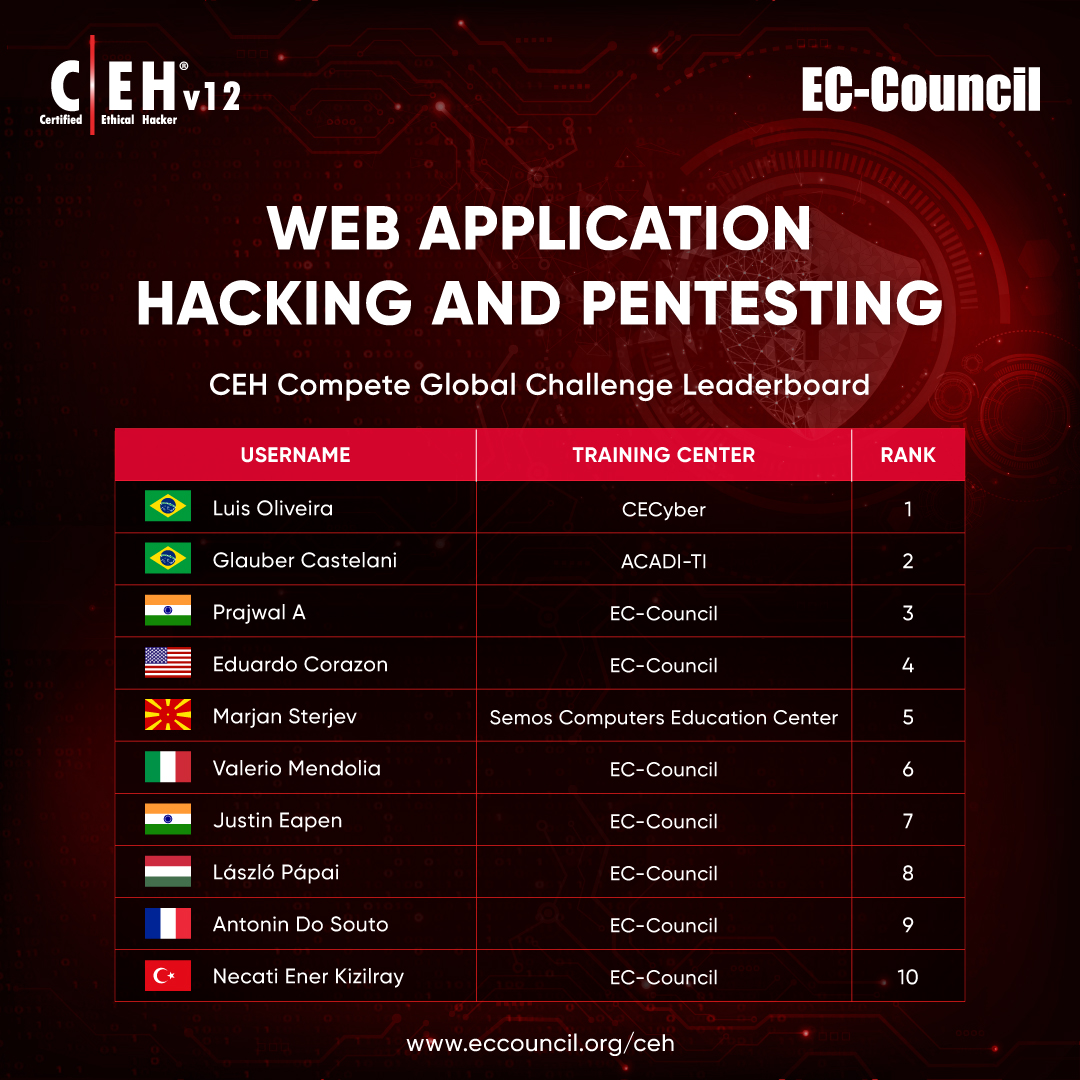 EC-Council proudly congratulates its Accredited Training Centers, CECyber in Brazil, ACADI-TI in Brazil, Semos Computers Education Center in Macedonia, for providing their students with top-notch C|EH training and assisting them in making it to the C|EH February Global Challenge Top 10 Leaderboard.
With cybercrimes evolving and getting more complex, the demand for ethical hackers is only expected to soar to protect organizations against malicious attacks. Built with critical job skills in mind, EC-Council's C|EH program is the world's best ethical hacking credential that not just teaches candidates but builds cyber careers. It includes training, certification, engagement, and competition (learn-certify-engage-compete) to help participants elevate the trajectory of their cybersecurity careers through a methodology-based approach. With its unique methodology, the C|EH v12 helps participants hone their ethical hacking skills and unfold the best version of themselves.
View the annual calendar for the C|EH Compete Series by visiting the following page: https://www.eccouncil.org/programs/certified-ethical-hacker-ceh-compete/
About EC-Council
EC-Council's sole purpose is to build and refine the cybersecurity profession globally. Its core mission is to help organizations, educators, governments, and individuals address global workforce problems by developing and curating world-class cybersecurity education programs and certifications while providing cybersecurity services to some of the largest businesses around the world. EC-Council is trusted by seven of the Fortune 10 companies, 47 of the Fortune 100 companies, the U.S. Department of Defense, global intelligence communities, NATO, and more than 2,000 of the world's best universities, colleges, and training companies. EC-Council programs are available in more than 140 countries and set the bar for cybersecurity education.
Learn more at www.eccouncil.org
Follow EC-Council on LinkedIn and Twitter
Mail to: [email protected]