Certified ethical hackers competed with peers from around the world to secure top positions on the C|EH Compete leaderboard as part of the January C|EH challenge, Ransomware/Malware analysis, organized by EC-Council, the creator of the world's leading ethical hacking certification.
Tampa, Florida, February 1, 2023–As part of the curriculum, certified ethical hackers took part in the January C|EH Compete by EC-Council, a global hacking competition that assesses a candidate's ethical hacking skills through 4-hour capture the flag style competitions. The January challenge was based on ransomware/malware analysis and required candidates to prove their skills in extracting ransomware codes from a company's compromised system. Participants battled against peers globally to secure the top position in the C|EH Compete leaderboard.
The challenge presented a scenario where a group of hackers hijacked an MNC's technology management software, embedded it with sophisticated ransomware, and leveraged its software to encrypt files in all customer systems simultaneously. The candidates' mission was to reverse engineer the ransomware, detect encryption algorithms and spot any trace of remote command and control sources that may be beneficial to law enforcement agencies.
The C|EH Compete global challenge is a monthly event that introduces new challenge themes to help candidates stay updated on the latest ethical hacking skills, processes, and vulnerabilities. The challenges are carefully curated and expose participants to various technologies and platforms such as web applications, OT, IoT, SCADA, ICS systems, cloud environments, and more.
"C|EH competitions are crucial to building industry-level ethical hacking skill sets. Candidates compete against peers globally in EC-Council's online cyber range and leverage scenario-based engagements to hone their critical thinking abilities. Students get wide exposure to the latest tools and new attack vectors and learn to counter evolving threat vulnerabilities with a competitive approach." said Jay Bavisi, President and CEO of the EC-Council Group.
The January C|EH Compete challenge witnessed Glauber Castelani from Brazil secure the first position, Ciprian Mazilu from Romania the second, and Elnur Khalisoglu from Azerbaijan the third.
EC-Council proudly congratulates its Accredited Training Centers, ACADI-TI in Brazil, XEDUCONET in Romania, CECyber in Brazil and Ithum Srl in Italy, for providing their students with the highest quality C|EH training, support and helping them make it to the C|EH January Global Challenge Top 10 Leaderboard.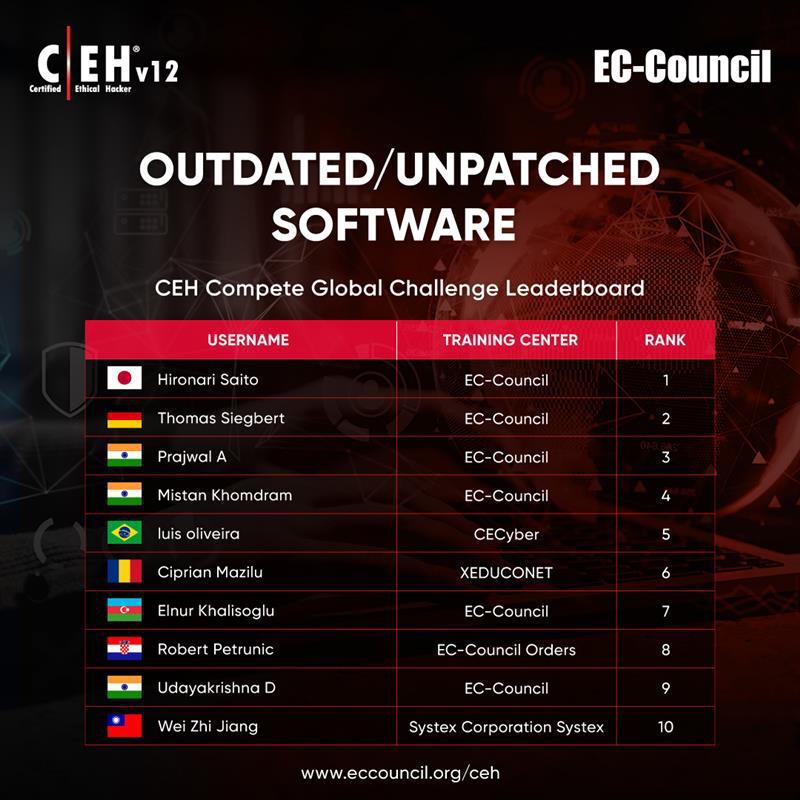 EC-Council's C|EH, a globally recognized certification program, offers a revolutionary way to gain ethical hacking expertise. The unique learn-engage-certify-compete framework enables students to gain comprehensive knowledge about ethical hacking fundamentals and master cutting-edge skill sets through challenge-based scenarios.
View the annual calendar for the C|EH Compete Series by visiting the following page: https://www.eccouncil.org/programs/certified-ethical-hacker-ceh-compete/
About EC-Council Academia
EC-Council's sole purpose is to build and refine the cybersecurity profession globally. Its core mission is to help organizations, educators, governments, and individuals address global workforce problems by developing and curating world-class cybersecurity education programs and certifications while providing cybersecurity services to some of the largest businesses around the world. EC-Council is trusted by seven of the Fortune 10 companies, 47 of the Fortune 100 companies, the U.S. Department of Defense, global intelligence communities, NATO, and more than 2,000 of the world's best universities, colleges, and training companies. EC-Council programs are available in more than 140 countries and set the bar for cybersecurity education.
Learn more at www.eccouncil.org
Follow EC-Council on LinkedIn and Twitter
Mail to: [email protected]