As part of their ethical hacking training program, EC-Council, the industry pioneer in cybersecurity training and certification, gives ethical hackers a chance to show their mettle in the C|EH Compete Global Challenge: unpatched/outdated software detection & remedy.
Tampa, Florida, December 1, 2022: The 'C|EH Compete' challenge for December, organized by EC-Council, brought together certified ethical hacker (C|EH) aspirants from around the world to compete against each other. Participants had to prove their caliber in the 4-hour capture-the-flag style competition by overcoming challenges and racing against some of the top ethical hackers worldwide.
In this competition, each participant was required to demonstrate expertise and hands-on skills in all the phases of the ethical hacking life cycle, including footprinting, reconnaissance, scanning networks, enumeration, vulnerability analysis, and system hacking. The challenge required candidates to employ red team techniques such as deep network reconnaissance, vulnerability and exploit research, SSH cracking, exploitation of outdated/unpatched applications, etc., to gain unauthorized elevated access to the target and exfiltrate sensitive business information.
Candidates were given a scenario and were required to recreate the path attackers took to perform a remote code execution attack (RCE) in an organization's Java-based billing system. The challenge tested the candidates' skills in identifying outdated/unpatched software with a situation-based engagement where the attacker exploited a zero-day vulnerability, gaining unauthorized access to the company's database and billing system. Participants demonstrated their skill in detecting similar vulnerabilities and recommending effective countermeasures in other systems of the organization.
The 'Compete' methodology of the new C|EH framework was designed to enable trainees to put their skills to actual use. This methodology includes the global C|EH Compete Leaderboard that helps students fight for the top ranks by countering dynamic challenges and beating their peers worldwide.
Hironari Saito from Japan won the top place in the December C|EH Challenge. Thomas Siegbert from Germany came in second, and Prajwal A from India took third.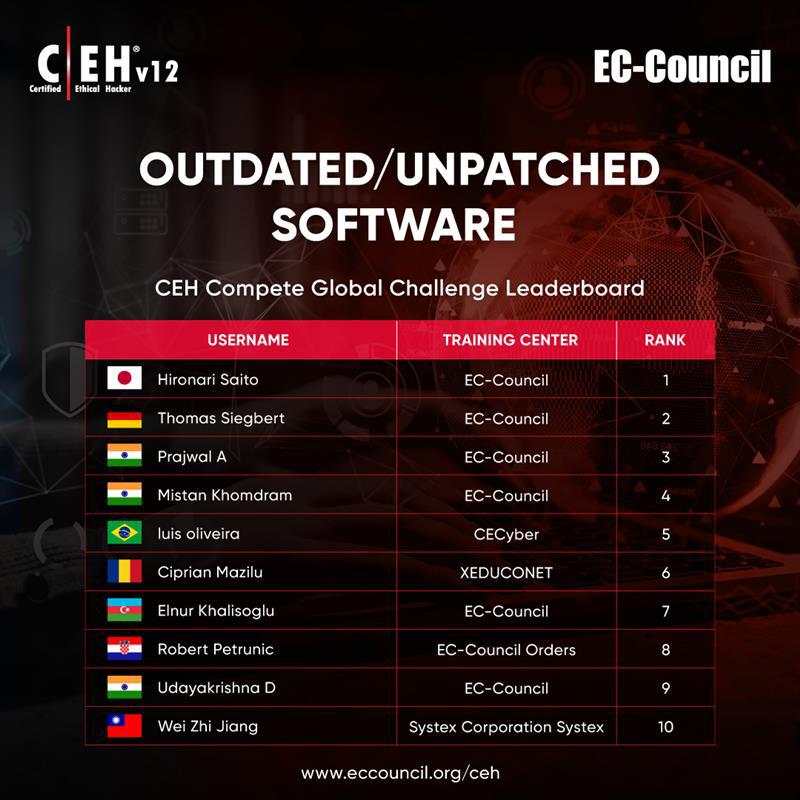 EC-Council proudly congratulates its Accredited Training Centers, CECyber in Brazil, XEDUCONET in Singapore, and Systex Corporation Systex in Taiwan, for providing their students with the highest quality C|EH training and enabling them to make it to the top 10 C|EH December Global Challenge Leaderboard.
'EC-Council constantly strives to build skilled, ethical hackers through the C|EH program, which offers candidates an opportunity to evaluate their skills by competing with peers globally. The challenges are curated to test a candidate's knowledge of ethical hacking processes, current skills, and critical thinking abilities. With a scenario-based approach, students get the exposure to demonstrate their aptitude in tackling emerging security vulnerabilities,': said Jay Bavisi, President and CEO of the EC-Council Group.
The 'Compete' phase of the C|EH v12 course is designed to equip the candidates to face real-world challenges and gain a deep understanding of the current skills, new attack vendors, and the latest hacking tools. The themes reflect contemporary cybersecurity challenges and allow aspiring professionals to encounter dynamic challenges, covering aspects from malware to service exploitation, web application attacks, SCADA and ICS systems, and more.
View the annual calendar of the C|EH Compete Series by visiting the following page:
https://www.eccouncil.org/programs/certified-ethical-hacker-ceh-compete/
About EC-Council:
EC-Council's sole purpose is to build and refine the cybersecurity profession globally. Its core mission is to help organizations, educators, governments, and individuals address global workforce problems by developing and curating world-class cybersecurity education programs and certifications while providing cybersecurity services to some of the largest businesses around the world. EC-Council is trusted by seven of the Fortune 10 companies, 47 of the Fortune 100 companies, the U.S. Department of Defense, global intelligence communities, NATO, and more than 2,000 of the world's best universities, colleges, and training companies. EC-Council programs are available in more than 140 countries and set the bar for cybersecurity education.
Learn more at www.eccouncil.org
Follow EC-Council on LinkedIn and Twitter
Mail to: [email protected]