Summary:
EC-Council trains IT employees of News Technology Services in incident handling, certifying them as EC-Council Certified Incident Handlers.
Bengaluru, 24 Nov:
News Technology Services (NTS) a part of News Corp, NASDAQ listed American mass media and publishing company joined hands with EC-Council to up-skill their cyber security team to handle and respond to cyber incidents. News Technology Services works directly with News Corp's global brands to offer a range of technology services, including web development support, application support, infrastructure management and cyber operations support. EC-Council, to make cybersecurity education accessible at an organizational level is engaging enterprises to offer classroom training on premise. In line with this initiative, EC-Council recently imparted in-person training in incident handling through the EC-Council Certified Incident Handler (E|CIH) program at News Technology Services, Bengaluru. A study by IBM showed that 77% of respondents do not have a cybersecurity incident response plan applied consistently across the enterprise. Incident handlers are essential to contain a cyber incident effectively and help organizations reduce the consequences of a breach. Organizations are under constant attack and are therefore turning towards incident handling experts to help them with a more systematic, planned, and legitimate approach to business continuity in the face of a cyber incident. "
EC-Council, in imparting classroom training exclusively for our employees, has equipped our team with the latest skills and knowledge required to handle and respond to security incidents. The training has been a massive success and E|CIH is quite a comprehensive program which will help us deal with any unforeseen incidents with a planned approach."
says, Satyavati Divadari, Director – Cybersecurity, News Technology Services Pvt Ltd. She further added, "
We preferred EC-Council mainly because it is the largest cybersecurity certification body and E|CIH program stands on par with other incident handling programs in the market. EC-Council will definitely serve the higher purpose of gaining clientele confidence and thereby, providing uninterrupted service.
" "
EC-Council is taking great strides to ensure that cybersecurity training is accessible to everyone around the world. We look forward to nurturing this enterprise relationship with News Technology Services and introducing more programs to their staff in the near future
," says Sean Lim, COO at EC-Council.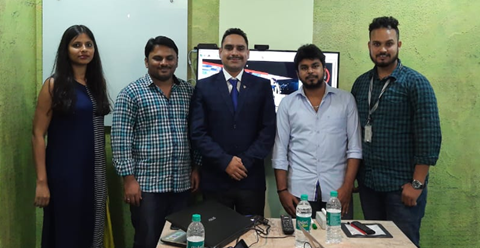 About EC-Council:
EC-Council has been the world's leading information security certification body since the launch of their flagship program, Certified Ethical Hacker (CEH), which created the ethical hacking industry in 2002. Since the launch of CEH, EC-Council has added industry-leading programs to their portfolio to cover all aspects of information security, including EC-Council Certified Security Analyst (ECSA), Computer Hacking Forensics Investigator (CHFI), Certified Chief Information Security Officer (CCISO), among others. EC-Council Foundation, the non-profit branch of EC-Council, created Global CyberLympics, the world's first global hacking competition. EC-Council Foundation also hosts a suite of conferences across the US and around the world, including Hacker Halted and Global CISO Forum. For more information about EC-Council, please see
https://www.eccouncil.org
.
About E|CIH program:
E|CIH is a specialist level program that has been designed and developed in reference to the cybersecurity incident handling and response practitioners across the globe. It imparts the knowledge and skill of effectively handling post-breach consequences from both financial and reputational perspective. The program is mapped 100% to NICE Framework and CREST Framework and encompasses 50 labs, 800 tools, and 4 operating systems.
About News Technology Services:
News Technology Services (NTS) Pvt Ltd. is News Corp's engineering, infrastructure and technology division based in Bangalore. News Technology Services works with News Corp's global brands to offer a range of technology and information solutions that connect people to the news they need. News Technology Services' product engineering talent in the digital stream focus on web publishing platforms, mobile application development, and publishing systems applications. News Technology Services' data engineering talent in the data stream focus on data pipelining – collection, ingestion, transformation and enrichment, prep and distribution – for data platforms and products. News Technology Services' Infrastructure Operations team provides reliable & efficient IT Infrastructure Management Services to various News Corp companies such as Dow Jones, News UK & News Corp Australia.