With unemployment reaching the 4.8 million mark in June (for nonfarm payroll only), surpassing the number of jobless in the US during the time of Great Recession, it comes as no surprise that anxiety about job loss is looming over everyone's heads. Since the coronavirus hit the US, nearly 1 in 5 households either experienced a layoff or a reduction in working hours. While a section of employers may consider less harsh options like pay cuts and furloughs, the uncertainty of losing jobs will remain.
As millions wonder what to do when a potential job loss hits them, organizations are beginning to classify most cybersecurity jobs as "essential" or National Critical Functions.
This is the right time for students and working professionals to look for assured career prospects in the cybersecurity industry. In order to kickstart your cybersecurity career, you will need to acquire cybersecurity skills that are mapped to the cyber roles demanded in the industry.
Why switch to a cybersecurity career?
With almost 3 Million jobs vacancies globally, Cybersecurity is an obviously attractive industry to be in. Day after day, more and more security breaches are making headlines and organizations are eagerly hunting for skilled cybersecurity professionals to shore up their defences. If you're looking for one good reason to make this switch, we'll give you three major reasons to consider a cybersecurity career –
1. Ever-Expanding Growth and Unlimited Options
It is true that every IT role has its cybersecurity counterpart. The primary focus on security gives birth to a plethora of new career options. With the right cybersecurity skills and knowledge, you can start as a security operation engineer and move to becoming a risk assessment analyst, or cyber forensic investigator, compliance educator, and several other options.
Apart from that, the unlimited growth potential of the industry enables you to take up challenging learning opportunities to change tracks as the industry matures.
2. Number of Unfilled Cybersecurity Jobs
As per a report by the Center for Cyber Safety and Education, the unfilled cybersecurity jobs are expected to reach 1.8 million by 2022. The number evidently suggests that the cybersecurity skill gap is only going increase in the next couple of years. Isn't it the right time for you to build your skills and get started as a security professional?
3. Exciting Cybersecurity Salary Offers
While looking at the exciting salary offers for entry- and mid-level security jobs, keep in mind that the role most coveted and sought after, which you can reach with a few years of experience is that of aChief Information Security Officer (CISO). CISO's ensure the security of a business, its invaluable data assets and its people.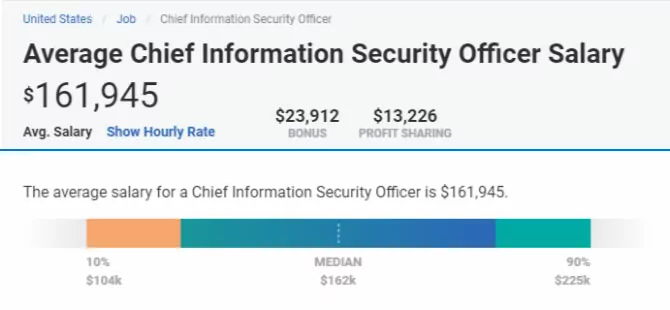 Source: PayScale
Indeed.com released a list of top 10 highest paying IT security jobs, which are –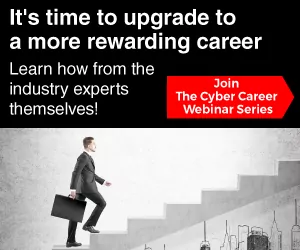 #1 Application Security Engineer – $128,128
#2 Director of Information Security – $127,855
#3 Senior Security Consultant – $126,628
#4 Cloud Engineer – $126,365
#5 Software Architect – $117,633
#6 PenTester – $114,431
#7 Risk Manager – $108,465
#8 Chief Information Officer – $103,690
#9 Security Engineer – $101,808
#10 Information Manager – $99,930
EC-Council Cyber Career Series
Entering the cybersecurity industry is easy when you know how. When you're getting trained on the right job-skills, adding the most acclaimed certifications into your resume, you can build your cybersecurity career for the long haul!
EC-Council has initiated Career Transition Series (webinars), where the industry's top experts will help you identify the required skillsets and the ways to acquire them. This series is an attempt to address the queries of cybersecurity aspirants as well as experienced cybersecurity professionals. Our speakers are experts who have achieved much success in their professional careers.ITheir experiences will surely serve as an excellent guide to career-changers who wish to transition into cybersecurity.
Here are the ten speakers you should be looking forward to –
Dawie Wentzel, Head of Cyber Forensic Investigations at Absa Group
Subin Thayille Kandy, Senior Product Security Engineer at Salesforce
Jeremy Green, Cyber Security Manager at BT Telecommunications
Jean Carlos, Group Head of Information Security at Nomad Foods
Nia F. Luckey, SOC Manager US Public Sector at CISCO
Vanessa Padua, Cybersecurity Executive Director at Microsoft
Jothi Dugar, CISO at The National Institute of Health, Centre of IT
Andres Felipe Lorza, CISO at Registraduria Nacional del Estado Civil de Colombia
Alexandre Horvath, CISO & DPO at Cryptix AG
Bjorn Voitel, Information Security and Privacy Professional at Internehmensinaber-IT