The Indian Energy giant, ONGC trains its Security team on EC-Council's flagship program CEHv9. The week long training was provided by EC-Council's partner Mercury Solutions.
The Security team at Oil and Natural Gas Corporation Ltd. (ONGC) successfully completed their certification on CEHv9, EC-Council's flagship certification. The team was trained by EC-Council's partner, Mercury Solutions. The prime objective of the training and certification programme was to imbibe Information Security skill set in the team also equipping them with the latest tools on Ethical Hacking. CEHv9, the latest version of the renowned CEH, the flagship certification of EC-Council has received applauds from across the world by cyber security enthusiasts. What makes CEH different from other courses in the industry is that, CEH not only teaches the ways to hack but also gives an insight about the ways to defend and counter hacks from outside parties.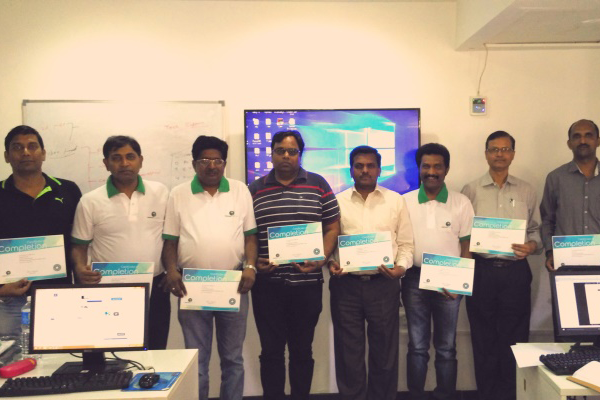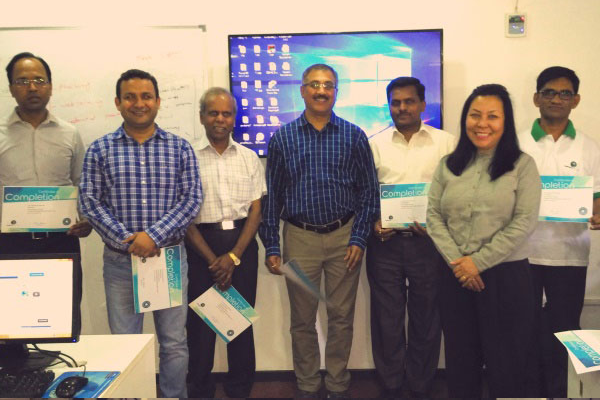 ONGC's Security team showcasing their CEHv9 course completion certificate; training support provided by EC-Council partner, Mercury Solutions
In the week long training programme, Certified EC-Council Instructors (CEIs) have imparted knowledge to the ONGC team on combating external Information Security threats, vulnerabilities and the cyber security ecosystem on the whole. Apart from this, the team was also trained on skills focused on enabling and maintaining a cyber secure environment inside the organisation. One of the trainees Mr. Pushpendu Ray, went on to appreciate the course, "Mercury Solutions conducted trainings immensely responsibly and in a very pedagogical and professional manner. The instructor got good knowledge of his domain and ran courses using smart mixture of techniques and tools. Overall the training was a success and the trainer definitely took responsibility to prepare me for the certification that followed the course. I am completely satisfied with the company's infrastructure and conducive environment that paved the way to fulfilling sessions. I gladly recommend Mercury Solutions to all the aspirants in this domain in particular and all others at large."
---
About EC-Council
EC-Council has been the world's leading information security certification body since the launch of their flagship program, Certified Ethical Hacker (CEH), which created the ethical hacking industry in 2002. Since the launch of CEH, EC-Council has added industry-leading programs to their portfolio to cover all aspects of information security including EC-Council Certified Security Analyst (ECSA), Computer Hacking Forensics Investigator (CHFI), Certified Chief Information Security Officer (CCISO), among others. EC-Council Foundation, the non-profit branch of EC-Council, created Global CyberLympics, the world's first global hacking competition. EC-Council Foundation also hosts a suite of conferences across the US and around the world including Hacker Halted, Global CISO Forum, TakeDownCon, and CISO Summit.
For more information about EC-Council, please see www.eccouncil.org.
---
About Mercury Solutions
Mercury Solutions Limited is a leading IT Training & Certification provider based in India. Facilitated by certified and seasoned faculty, Mercury Solutions Limited was established with the objective to impart world class IT Trainings and Certifications to participants coming from across the globe and help them earn premium IT vendor certifications. In the past decade, we have helped several international as well as domestic IT professionals and organizations achieve their ultimate career and business goals. Mercury Solutions has been providing trainings to the global workforce from several Fortune 500 companies and governments worldwide in some of the latest and most advanced technologies. We offer a wide variety of IT Training courses ranging from beginner to the advanced level as we are affiliated to the globally recognized IT vendors such as EC-Council, Microsoft, Cisco, Red Hat, Novell, Oracle, CompTIA, VMware, Apple and EXIN and many more. We dedicatedly work towards enhancing our candidates' IT skill set, help them keep pace with the latest technological trends and prepare for a better career, we excel in providing a focused and a rewarding learning experience.
For more information about Mercury Solutions, please see www.mercury.co.in.