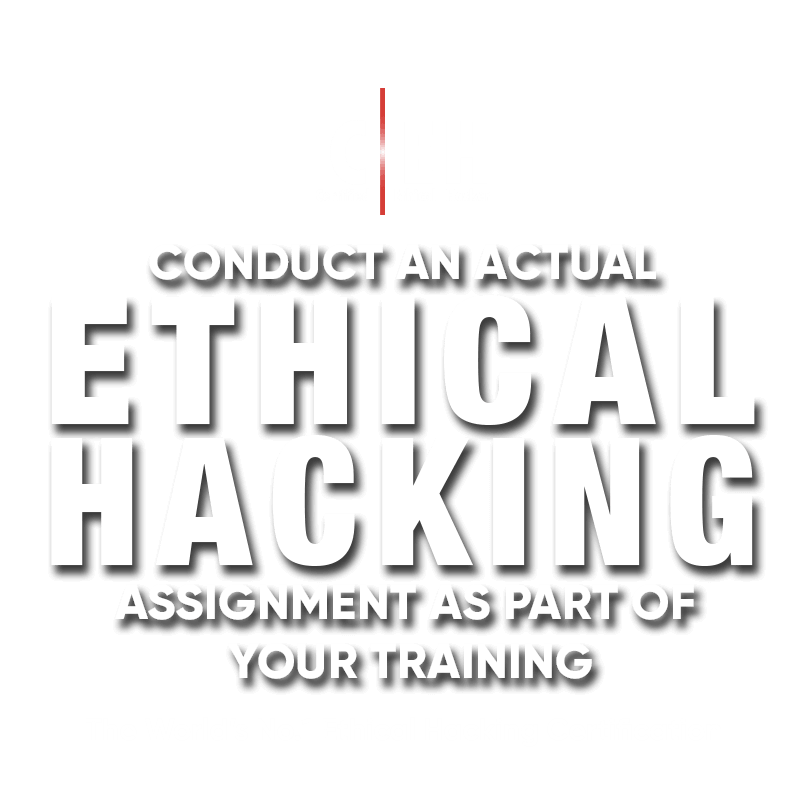 Become a Certified Ethical Hacker (C|EH)
CERTIFIED PROFESSIONALS
IN 145 COUNTRIES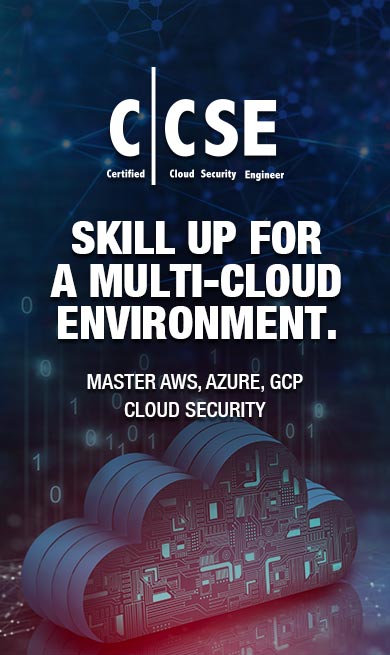 CERTIFIED PROFESSIONALS
IN 145 COUNTRIES Become a Certified Cloud Security Engineer (C|CSE)
Sharpen Your Real-World Ethical Hacking Skills, No Matter Your Level of Experience!
Develop real-world experience in ethical hacking through the hands-on C|EH Engage (practice) environment. The Certified Ethical Hacker (C|EH v12) is a comprehensive training course that delivers real-world experience through its expanded curriculum, live cyber range, hands-on labs, and cutting-edge learning environment.
The C|EH v12 Engage range was designed to enable students to test their knowledge and apply their skills in a simulated ethical hacking engagement after they complete their training and practical labs. In this 4-part engagement, students are challenged to exercise critical thinking while testing what they learned in the course. By capturing several flags in each phase, they'll practice their skills and abilities live in a consequence-free environment through EC-Council's new Cyber Range.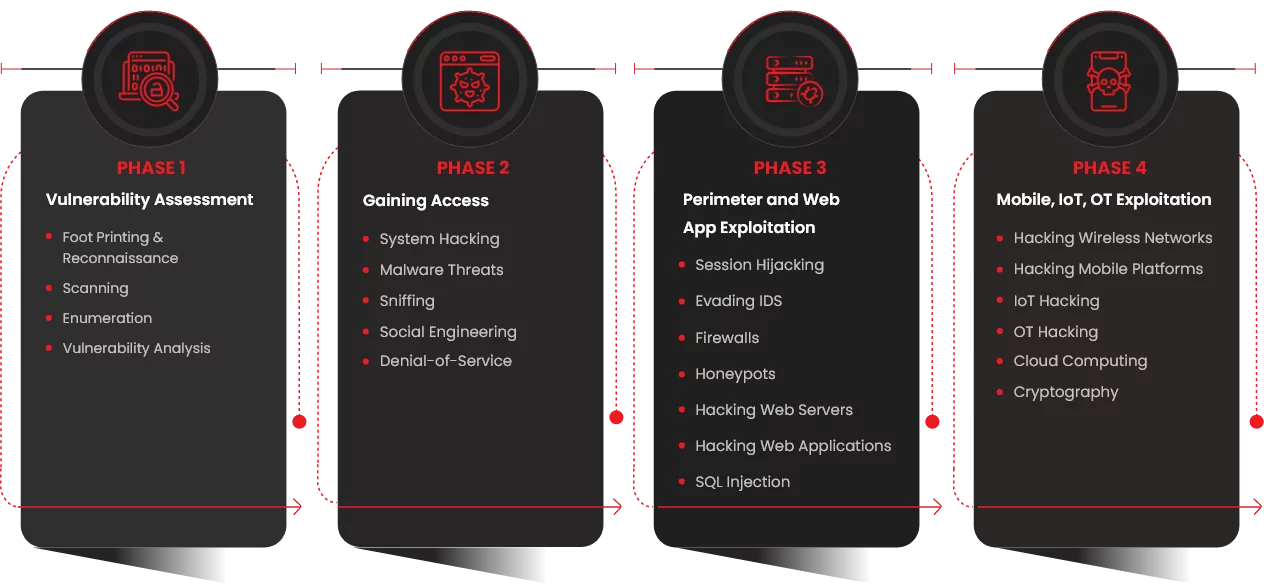 Your Mission
Once you've finished the hands-on guided labs, it's time to put your skills to the test. Take on a hacker persona to find vulnerabilities in ABCD, all built in our C|EH Engage practice range. Apply your ethical hacking knowledge, whether you're sharpening your skills or engaging for the first time.

The Scenario:
You are an ethical hacker hired to conduct an ethical hacking engagement with CEHORG. Below are more details about your engagement.

Your Objective:
Armed with your attack platform, Parrot OS, and many tools used by ethical hackers,you will embark on a 4-part engagement to assess ABCD's security posture. Follow the process, practice your TTPs, and experience the real thing in a controlled environment with no consequences, just the ultimate learning experience to support your career as an ethical hacker! Each phase builds on the last as you progress through your CEHORG engagement. The flags in each phase progress alongside the C|EH course content, so you can challenge your skills as you learn or complete the challenge all together after completing the course—the choice is yours.
With C|EH Engage, prove your mettle and develop the skills you need to be an ethical hacker. The C|EH program is the first to take trainees beyond theory, requiring them to put their skills to use in a practical setting using our innovative four-phase Learn, Certify, Engage, Compete methodology.
In the C|EH v12, candidates can hone their skills through in-depth training and practical labs, followed by a simulated ethical hacking engagement simulates a mid-size target organization. With four immersive, self-driven hacking assessments lasting four hours each, you'll be required to hack the organization to test your newly learned skills from the program
A Pioneer in the Global Standard for Ethical Hacking:
The 5 Phases of Ethical Hacking
In 2003, C|EH introduced the five phases of ethical hacking, the blueprint for approaching your target and succeeding at breaking in. We have continued to hone these 5 phases, updating and refining them to match the skill set ethical hackers need today: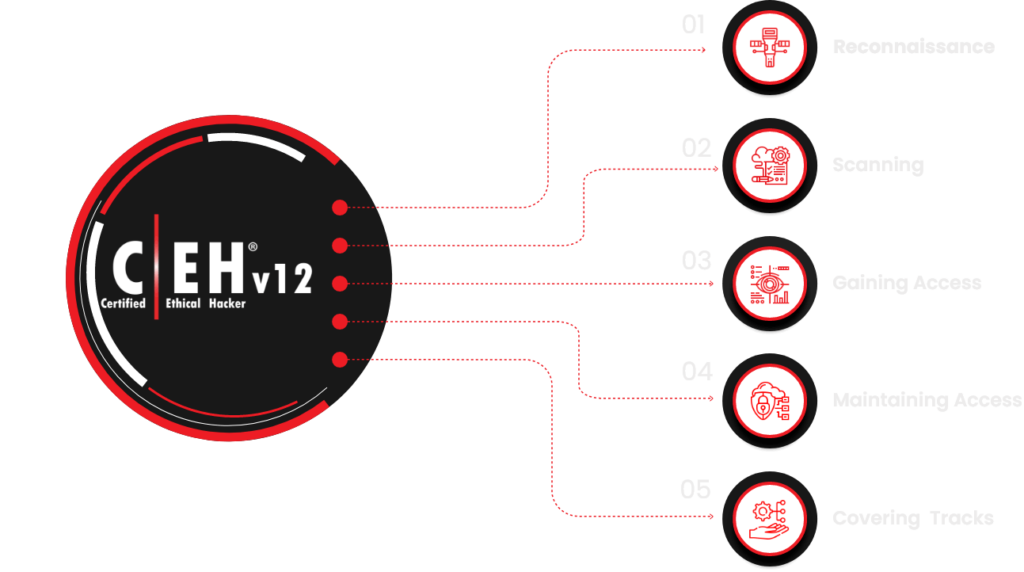 FIND OUT IF YOU'RE READY FOR THE
REAL WORLD WITH C|EH ENGAGE
What Makes Certified Ethical Hacker Engage (C|EH) Unique?
Accreditations, Recognitions & Endorsements