EC-Council held its March C|EH Compete Challenge on cloud hacking/attacking to test the ethical hacking prowess of participants
Tampa, Fla. (April 6, 2023) – In March 2023, cybersecurity experts worldwide competed for a spot on the EC-Council's Global Ethical Hacking Leaderboard, a platform that honors the achievements of top Certified Ethical Hackers (C|EHs). In an impressive display of cybersecurity prowess, Alex Backman from United States took first place, closely followed by Jonathan Daniel Humbert from United States and Ciprian Mazilu from Romania, who finished third. These top C|EH professionals have solidified their position as field leaders through their expert knowledge and innovative approaches to ethical hacking.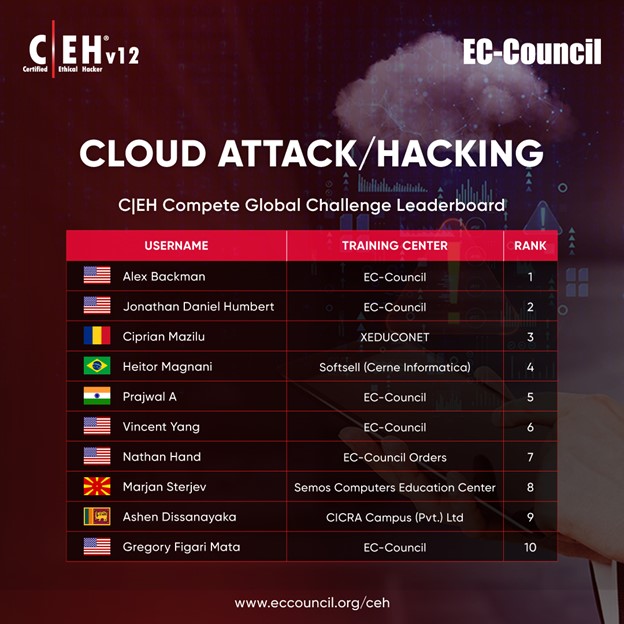 EC-Council proudly congratulates its Accredited Training Centers, XEDUCONET in Romania, Softsell (Cerne Informatica) in Brazil, Semos Computers Education Center in Macedonia, CICRA Campus (Pvt.) Ltd in Srilanka, for providing their students with top-notch C|EH training and assisting them in making it to the C|EH February Global Challenge Top 10 Leaderboard.
The Global Certified Ethical Hacker Compete Challenge is a four-hour capture-the-flag (CTF) style competition, with the March competition focusing on cloud hacking/attacking. Aspiring cybersecurity professionals who are training to become Certified Ethical Hackers competed on EC- Council's patented cyber range, Cyber Q. Each competitor in this challenge was required to demonstrate a thorough understanding of various cloud-based attacks, assess the security organization's cloud system, and locate the ports on the system that have access. Candidates raced to the top 10 on the global leaderboard.
The global C|EH Compete platform offers a variety of challenges that cover various cybersecurity domains, including penetration testing, network security, and ethical hacking. As cyber threats become more sophisticated and frequent, the need for knowledgeable cybersecurity personnel is greater than ever. This competition is an excellent platform for cybersecurity professionals to showcase their skills and knowledge and stay ahead in this fast-paced field.
To view the annual calendar of the C|EH Compete Series, please visit the following link: https://www.eccouncil.org/train-certify/certified-ethical-hacker-ceh-compete/
About EC-Council
EC-Council's sole purpose is to build and refine the cybersecurity profession globally. Its core mission is to help organizations, educators, governments, and individuals address global workforce problems by developing and curating world-class cybersecurity education programs and certifications while providing cybersecurity services to some of the largest businesses around the world. EC-Council is trusted by seven of the Fortune 10, 47 of the Fortune 100, the Department of Defense, global intelligence communities, NATO, and more than 2,000 of the best universities, colleges, and training companies. EC-Council programs are available in more than 140 countries and set the bar in cybersecurity education.
Learn more at www.eccouncil.org
Follow EC-Council on LinkedIn and Twitter
Mail to: [email protected]