The EC-Council Academic division is proud to formally highlight academic institutions and instructors across the world that excel each year with lasting impacts on their students' cybersecurity education and local communities.
[2/2/2021, TAMPA, FL] EC-Council is pleased to announce 2020's academic award recipients for the U.S. region:
https://www.eccouncil.org/ec-council-global-awards/
.
EC-Council organizes annual partner awards to highlight the highest levels of cybersecurity education, training, executive leadership, and instruction within our global communities. This consists of partnered academic institutions, commercial training centers, corporate organizations, CISOs, and Certified EC-Council Instructors (CEIs). The award categories recognized and celebrated in the U.S. Academic division include the following:
Academic Award Categories: (Credit & Non-Credit)

| | |
| --- | --- |
| 2020 Academic Partner of the Year | (1 award recipient) |
| 2020 Academic Circle of Excellence | (5 award recipients) |
| 2020 Academic Innovator of the Year | (1 award recipient) |
| 2020 Academic Best Newcomer | (1 award recipient) |
| 2020 Academic Instructor Circle of Excellence | (3 award recipients) |
| 2020 Academic Instructor of the | (1 award recipient) |
EC-Council's Academic division and awards committee honors academic partners each year that excel in course offerings, technologies, and cybersecurity instruction for students and faculty. EC-Council's Executive Committee reviews each nominee's impact, assessing their faculty, student experiences, efforts outside of the classroom, individual faculty involvement, and more prior to voting on an award recipient.
These are very prestigious awards as EC-Council has over 2,000 academic partnerships across the world from High Schools, Technical Institutes, Colleges, and Universities. Award recipients are honored based on the following criteria:
– Continuous program development.
– Incorporating new technologies and innovative methods of education.
– Commitment to educate and make a difference in the cybersecurity workforce.
– Student feedback on EC-Council courses and faculty.
– Evaluation reports post class.
– Secondary, Post-Secondary, and Alumni Engagement.
– Specialized initiative engagements.
… and more
The Annual Academic Awards traditionally precedes both Hacker Halted, EC-Council's largest annual cybersecurity conference, and the Global CISO Forum, EC-Council's premier executive-level event. However, last year's Hacker Halted and Global CISO Forum events were held virtually.
Wesley Alvarez, Director of Academics, said, "We are incredibly proud to present the following recipients with their awards to honor their achievements in 2020. Last year was a very challenging year for academic communities and students alike across the world. These award recipients were able to persevere and ensure quality cybersecurity education programs and standards were accessible for existing students as well as professionals seeking a career change. We are pleased to highlight their efforts and wish them each success in the new year!"
2020 Academic Award Recipients:
2020 Academic Partner of the Year Award:
Western Governors University
2020 Academic Circle of Excellence Award Recipients:
| | | |
| --- | --- | --- |
| | | |
| University of Maryland Global Campus (UMGC) | University of Phoenix | ECPI University |
"UMGC has one of the largest cybersecurity programs in the country with classes taught by scholar-practitioners, faculty who are working in their fields and bringing real-world experience and current issues directly into the classroom. Students have the opportunity to get hands-on experience through our highly successful cyber competition teams, which employers value when searching for talent."
---
"We are honored to be selected for EC-Council's 2020 Academic Circle of Excellent Award. ECPI University is committed to providing leading-edge education and training to upcoming cybersecurity professionals and preparing them for the workforce. Our EC-Council partnership is critical to keeping our Bachelor's and Master's program up to date and current. We thank EC-Council in selecting ECPI University for this prestigious award."
~Keith Morneau, Ed.D. ECPI University Dean of Computer & Information Science
(Josh Yazzie, ECPI University Cybersecurity Student)
| | |
| --- | --- |
| | |
| Independence University | PSB Academy Pte. Ltd. |
2020 Academic Innovator of the Year Award:
Forsyth Technical Community College
"The faculty at Forsyth Technical Community College develop programs that build student competencies as well as skills through innovative styles of education. Students have the ability to earn attachable certificates as well as stackable certifications such as CND, CEH, and CHFI. These offer tremendous value for students."
Dr. Deanne Wesley
Forsyth Technical Community College
Winston-Salem, NC
Associate Dean, Davis iTEC/Cyber Security Center
2020 Best Newcomer of the Year Award: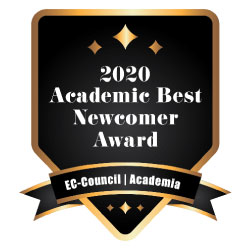 North Central Texas College
2020 Academic Instructor of the Year Award:
"Teaching workplace skills is something I am passionate about, teaching technical workplace skills is something that I am driven to. I am extremely fortunate and am thankful for the opportunity to work with the wonderful folks at EC-Council, being able to offer relevant technical cyber training to students is awesome. I look forward to a continued partnership where we can teach and train a new generation of cyber leaders."
Ervin Frenzel, Program Director of Information Systems Cybersecurity
Collin College
Mckinney, TX
2020 Academic Instructor Circle of Excellence Awards:
Franklin Mesa, Miami Dade College
| | |
| --- | --- |
| | |
| Jason McHuen, Northern Virginia Community College | Fayetteville Technical Community College |
"During our short time working with EC-Council, the partnership has had a major positive impact on our program. The curricula is very popular with our students and our faculty alike! The support team they provide is exceptional and we truly value our partnership. It is an honor to be selected for the Academic Instructor Circle of Excellence award."
Chris Herring, Department Chair – Systems Security & Analysis
Fayetteville Technical Community College
Fayetteville, NC