EC-Council, the creator of the world-famous Certified Ethical Hacker (C|EH) certification, hosted top ethical hackers worldwide in its June C|EH Compete Challenge: Wi-Fi Network Attack/Hacking, assessing their merit in network security.
Tampa, Fla. (July 1, 2023) – EC-Council's C|EH compete challenges, conducted as a part of the C|EH v12 curriculum, bring together top ethical hackers from all over the world to participate in stimulating cyber competitions every month, evaluating the participants' merit in dealing with the latest cybersecurity challenges. The June C|EH Compete Challenge featured the theme of "Wi-Fi Network Attack/Hacking" and witnessed ethical hackers exhibiting their best efforts as they fought to secure the top 10 positions on the C|EH Compete Leaderboard. Participants battled against their peers in a 4-hour capture-the-flag style competition and proved their fortitude as ethical hacking experts in assessing and securing the free Wi-Fi network of a city in Florida.
The C|EH v12 incorporates a unique learn-certify-engage-compete methodology to help aspiring cyber professionals gain relevant knowledge and build practical skills in tackling real-world challenges. The 'Compete' challenges, held on EC-Council's Cyber Range, present new themes to candidates, testing their skills and critical thinking abilities in exploiting emerging vulnerabilities. The themes are carefully selected, keeping in mind the latest evolutions in cybersecurity, the tools, and technologies to help participants acquire skills that are current and in demand.
While people increasingly rely on public Wi-Fi networks for work and leisure activities, the security threats associated with them are also on the rise. As free Wi-Fi hotspots do not require authentication to establish network connections, they are desirable targets for malicious hackers. By conducting the June C|EH Compete challenge on Wi-Fi Network Attack/Hacking, EC-Council offered the participants an opportunity to assess their core abilities in network security, a highly sought-after skill in the current cybersecurity landscape.
EC-Council congratulates Sebin Thomas from India, Prajwal A from India, and Jonathan Daniel Humbert from USA, who secured first, second, and third places respectively in this competition.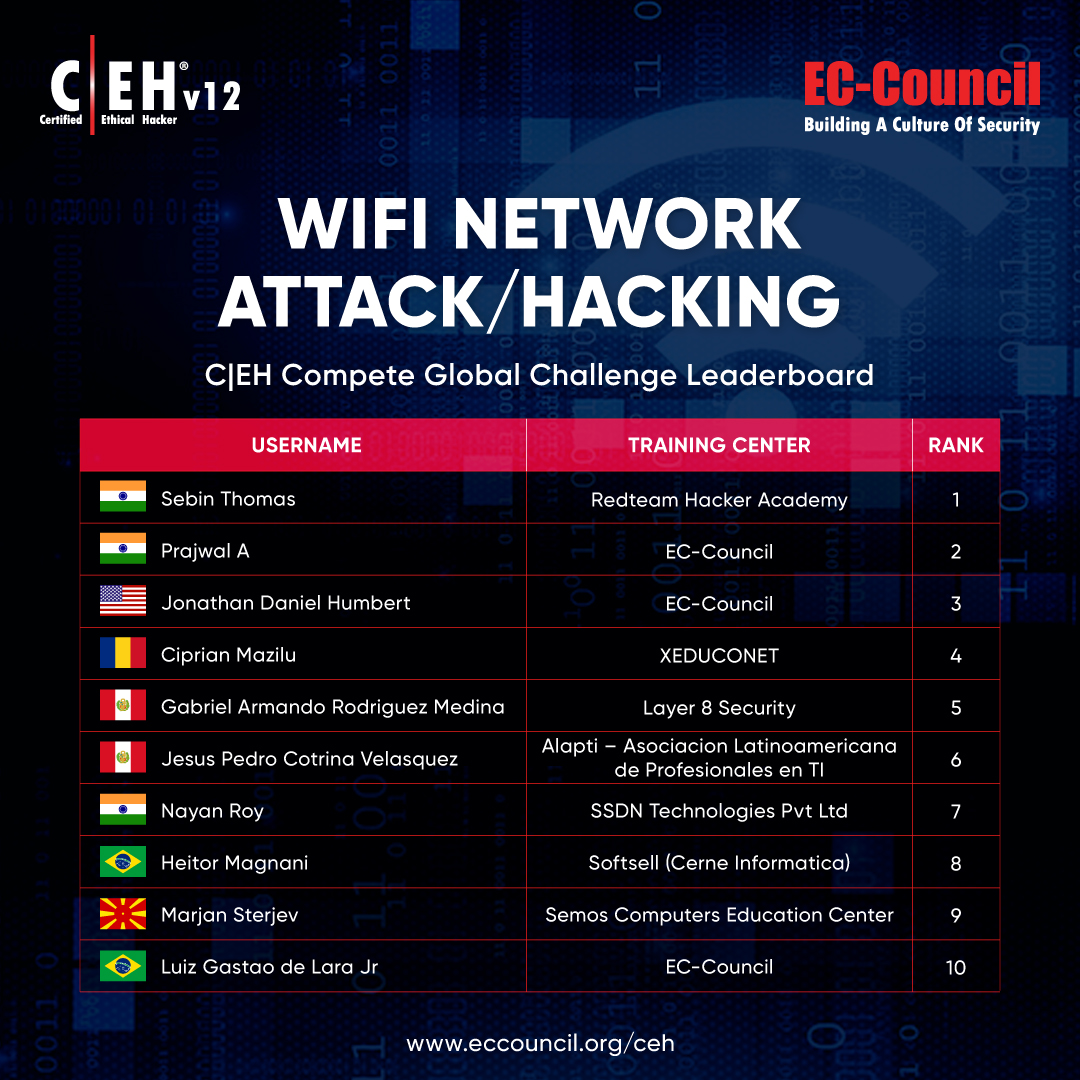 EC-Council also proudly congratulates its Accredited Training Centers, Redteam Hacker Academy and SSDN Technologies Pvt Ltd from India, XEDUCONET from Romania, Layer 8 Security and Alapti from Peru, Softsell (Cerne Informatica) from Brazil and Semos Computers Education Center from Macedonia, for providing their students with top-notch C|EH training and assisting them in making it to the top ten global rankings in the C|EH June Global Challenge Leaderboard.
The C|EH program is the most trusted credential worldwide, offering candidates a revolutionary way to learn ethical hacking. The comprehensive curriculum, featuring extensive hands-on training, equips students with the necessary skills to proactively detect vulnerabilities in almost every type of target system. Candidates learn the five phases of ethical hacking (Reconnaissance, Scanning, Gaining Access, Maintaining Access, and Covering Tracks) and hone their skills through the mock ethical hacking engagements in EC-Council's new Cyber Range.
With ethical hacking promising a lucrative career option, EC-Council's C|EH program ensures candidates gain not just knowledge but job-ready skills preferred by employers. After successfully completing the C|EH course, candidates are qualified for various cybersecurity job roles like cybersecurity auditor, cyber defense analyst, cybersecurity consultant, and more.
To view the annual calendar of the C|EH Compete series, please visit: https://www.eccouncil.org/train-certify/certified-ethical-hacker-ceh-compete/
About EC-Council
EC-Council's sole purpose is to build and refine the cybersecurity profession globally. Its core mission is to help organizations, educators, governments, and individuals address global workforce problems by developing and curating world-class cybersecurity education programs and certifications while providing cybersecurity services to some of the largest businesses around the world. EC-Council is trusted by seven of the Fortune 10 companies, 47 of the Fortune 100 companies, the U.S. Department of Defense, global intelligence communities, NATO, and more than 2,000 of the world's best universities, colleges, and training companies. EC-Council programs are available in more than 140 countries and set the bar for cybersecurity education.
Learn more at www.eccouncil.org
Follow EC-Council on LinkedIn and Twitter
Mail to: [email protected]